BrightStar Care Sponsors Young Inventors out to Help Seniors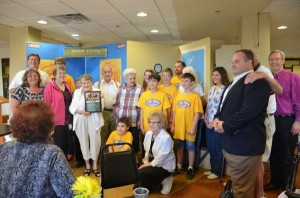 We'd like to introduce you to a group of eight clever 11-13 year-old inventors from Atlanta who created an ingenious device that makes it easier for seniors to get out of chairs. "The Determinators" as they're called, is a FIRST LEGO League Team. As part of these teams, kids work together to solve real-life problems, design cool robots that accomplish certain tasks, and compete against other teams. Each year they have competition themes, and this year's theme is Senior Solutions.
In January, The Determinators beat out 506 other teams to win the Georgia state championship, and they earned a spot in the World Festival that will take place April 24-27 in St. Louis. Teams from 40 countries and 25 states will compete at this 3-day event, and more than 30,000 people are expected to attend. BrightStar Care is proud to be a team partner and sponsor the team as they prepare for next week's competition.
"Kids working together to identify a common challenge for seniors and developing a person-centered and easy-to-use solution, we couldn't pass up the opportunity to support them" BrightStar Care CEO Shelly Sun said. "BrightStar Care is honored to be part of The Determinators team, and we are so proud of their commitment to improving the quality of life for people aging in their homes."
And that's how "The Determinators" became "The Determinators…Powered by BrightStar Care."
"BrightStar Care's partnership has been extremely helpful on many levels," Team Coach Ken Halley said. "Obviously their clinical expertise and financial support has provided immediate and tangible benefits to The Determinators."
"What has been even more helpful is the validation and confidence that BrightStar has given the kids. BrightStar Care's support helps show The Determinators that their ideas and their teamwork really can make a difference in the lives of seniors."
To come up with the idea for their winning invention, the kids interviewed residents at a local senior living community called Noble Village. From these conversations, they identified getting out of chairs as a common and frustrating challenge for seniors. So they put their heads together and came up with a solution: The EZ Inflatable.
The EZ Inflatable is an ingenious device that gradually inflates to lift a person out of their chair. Their first prototype was put together with a modified inflatable mattress, a Coleman air compressor, and … of course … duct tape.
In addition to sponsoring the team, BrightStar Care also acts as the team's clinical quality and marketing consultants. The kids presented their invention to BrightStar Care Senior Vice President of Quality and Clinical Operations Sharon Roth Maguire during a web chat in February, and Sharon asked questions that helped them consider how seniors can use the device safely and effectively.
BrightStar Care also mobilized a public relations effort to spread the word about this great group of kids and their brilliant invention. The PR support culminated in a trip to New York City for an in-studio appearance on Fox&Friends' weekend show April 6 where the team demonstrated their LEGO robot as well as the EZ-Inflatable.
On April 12, BrightStar Care owners in Atlanta organized a send-off reception for the team and their family at Noble Village, the nursing home where the kids conducted their interviews. Local press was on hand to cover the reception, including the Gwinnett Daily Post, the Atlanta Journal Constitution, and local TV news stations. Here's an excerpt from the Gwinnet Daily Post's article on the event, "Young inventors impress seniors, advance to world festival"
"This cushion to help you get up was phenomenal," said Carpenter, who is 87 years old. "As you get older, different things stop working. And if you can have something that will give you a little lift, that's terrific. You don't expect them to be able to come up with something that's going to be as helpful as this is. So it was really a pleasant surprise."…
Scott Morrison, president of BrightStar (of NE Atlanta), said this product is effective because it helps people stay in their homes longer, and it comes at a time when an aging baby boomer population is entering the system.
"It's going to require all of us to learn to care for the elders, and it's going to require a lot of technology," Morrison said. "I'm just thrilled that these young folks are looking at that, because this is the generation that's going to take care of me."
Already the team is among the top 20 finalists for a separate but similar innovation competition, and they will lead the opening ceremonies!
Please join us wishing them well, and stay tuned for further updates on their success.