Experienced Multi-Unit Franchise Owner Adds BrightStar Care – Home Care Franchise to Portfolio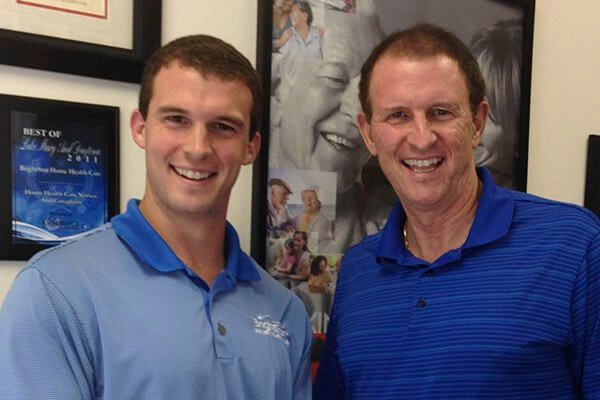 Finding the Right Franchise for You
Successful Multi-Unit Business & Franchise Owner Specializes in Health, Wellness & Education; Expands Portfolio to Include BrightStar Care Franchise
CHICAGO, Ill. – As the demand for quality in-home care grows so too does the number of business opportunities within the field of health and advocacy. Recognizing this line of business as viable and lucrative, Mark Mooney, multi-unit franchisee based in Florida, jumped on the chance to acquire several existing BrightStar Care home care franchise locations.
Seeking to capitalize on their  multi-unit franchise and business experience in the areas of wellness, advocacy and education, and backed with a strong desire to help others, Mark and his son Michael expanded their portfolio to include BrightStar Care, a senior care franchise that provides both medical and non-medical care to private clients in their homes.  Acquiring a total of four territories, the father-son duo now operate locations in West Seminole, Orange, East Volusia and Lake County, Florida.
The concepts within the Mooney business repertoire include two Massage Envy franchise locations, a spa and massage service committed to encouraging a healthy lifestyle, Veramea, a consulting firm dedicated to aiding entrepreneurs in business growth and innovation, MyEduLife, an organization that creates software for educational institutions. In congruence with the above, BrightStar Care specializes in a full continuum of care, from senior companionship to skilled medical, fitting the Mooney family's philosophy to provide expert, compassionate care.
In addition to a passion for assisting those in need, the Mooney family has personal ties to the in-home care category. Mark recently lost his parents and felt that the option for quality care was lacking as his mother and father reached the age where they could no longer care for themselves. With no feasible in-home care option, the family resorted to taking their aging loved ones from their homes and placing them in an assisted living facility.
"Our family knows from personal experience the trials and tribulations that arise when searching for quality health care – especially for family members, whom you want to see happy and safe," said Mark Mooney.  "BrightStar enables us to provide the full range of home health care customized to each individual's specific needs. BrightStar's reputation within the healthcare industry is unsurpassed and they offer franchisees a support system that sets us up for success in a very competitive field. We are very proud of our BrightStar family and their desire to carry forth a quality brand."