BrightStar Care Owners Recognized for Superior Veteran Care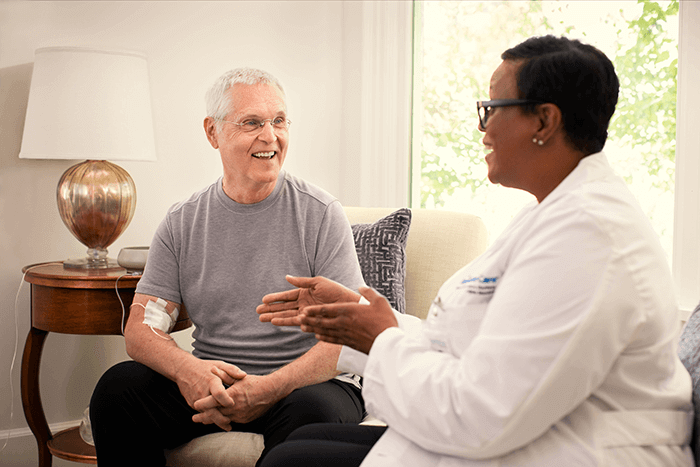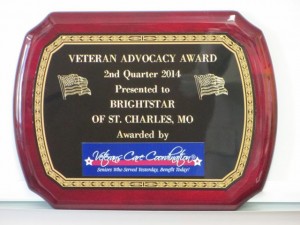 BrightStar Care franchise owners in St. Charles, Missouri, Bill and Nancy Allen, have been recognized by the Veteran Care Coordination for going above and beyond their call of duty this year. They received the Veteran Advocacy Award for the second quarter of 2014 due to their outstanding commitment in assisting veterans with their healthcare needs.
As a result of their team's efforts, numerous military veterans and spouses of veterans in the area have been able to take advantage of Pension with Aid and Attendance benefits allowing them to enjoy the more comforting lifestyle they so deserve. While BrightStar Care is the only in-home care agency in St. Charles accredited by the Joint Commission, their services went far beyond medical expertise.
"We have always tried to give patients and their families the personal attention that they need. Sometimes it's as simple as being available to listen," said Bill Allen, co-owner of BrightStar Care of St. Charles. "Nancy and I are honored to receive this award but we know this recognition is a result of our outstanding team, who has stepped up to challenges time and time again."
Veterans Care Coordination, LLC, is an independently owned and operated home care company that advocates on behalf of veterans, surviving spouses, and their families to apply for Aid and Attendance pension benefit through the Department of Veteran Affairs. BrightStar Care of St. Charles was chosen for the Veteran Advocacy Award due to their deep commitment and individual attention with numerous veteran patients.
"Bill, Nancy and the entire BrightStar Care of St. Charles team demonstrates excellence, compassion and exemplary ethics to every client they serve. They are dedicated, committed and truly care," said Marsha Cummings, Account Manager for Veterans Care Coordination. "We work with BrightStar Care agencies all over the country and we are very impressed with the high caliber of care that is consistently provided."
Honoring a BrightStar Care franchise is fitting when considering the company's deep involvement with numerous veteran patients, franchisees, and executives. Allen's father was a veteran and since the opening of his BrightStar Care location in 2012, he's taken pride in giving those that served the diligent care they deserve.
The BrightStar Care commitment to supporting veterans and their families extends beyond their clients to current and potential franchisees. The nationwide home care franchise provides educational resources on Veteran's Benefits for their franchisees, as well as a mentoring program for new and existing military veteran franchisees to connect. Recently, BrightStar Care announced a special program that awards a donation to a local Wounded Warrior program and a fee discount for entrepreneurial military veterans looking to join the BrightStar Care franchise.