Franchisees Robin and Ellen Hazel Featured on Entrepreneur.com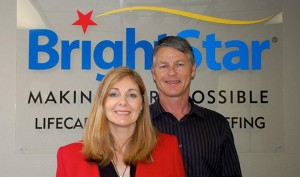 On September 30, 2014, BrightStar Care franchisees Robin and Ellen Hazel were featured on Entrepreneur.com in a column titled 'Franchise Players'. This column features a Q&A interview that puts the spotlight on franchisees, and Robin and Ellen (BrightStar Care of of South Pinellas County) were highlighted as successful husband and wife franchise owners. The article outlines the Hazels' background, why they decided to join the BrightStar Care franchisee community, and they share tips and advice for other husband and wife teams who are looking to go into business together. Here is an excerpt from the article:
Why did you choose this particular franchise?
We saw a need in our community for a high-quality provider of private duty in-home care, and the BrightStar Care commitment to always providing a higher standard of care aligns with our values. The level of support, the external reviews and the satisfaction of franchisees within the system already led us to believe we were joining a best-in-class franchise. We have not been disappointed in our choice.
How was the process of becoming a franchise owner different for a couple versus and individual?
It has to be much more collaborative. Difficult, gut-wrenching decisions about time and money and the allocation of resources have to be decided as a team. When there are no right answers, only ones that are best for our circumstances, it is all a calculated risk that you make together.
Click here to read the full article.
Related: Tampa-based franchisees break the BrightStar Care revenue record for Year Two