Q&A with multi-unit BrightStar Care franchisee Mark Mooney
Author: BrightStar
Franchisee's experience caring for his aging parents leads him to buy a BrightStar Care home healthcare franchise
After years in military service, government and corporate jobs, Mark Mooney was feeling a void in the corporate world. He needed to do something that would make a difference. With some personal experience caring for his aging parents after they became unable to care for themselves, Mooney understood some of the challenges all too well. Without a feasible in-home care option, his family made the agonizing decision to place their parents in an assisted living facility. That experience made him see the need for the kind of quality care that was lacking, which in turn led him to BrightStar Care. Here's how he made the transition in 2013 to become a multi-unit owner of several BrightStar Care home healthcare franchise locations.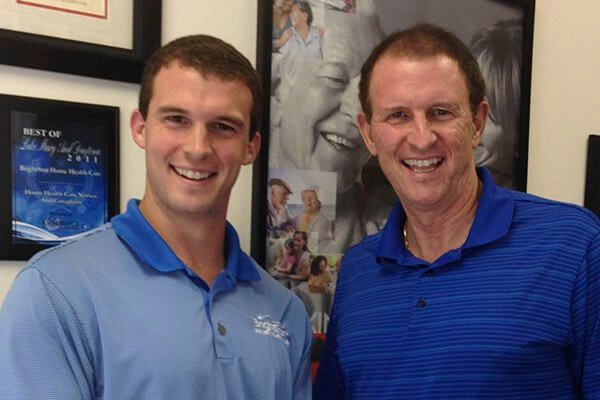 What were you doing before you came on board?
A bunch of stuff. I was in the military, I worked for the government, worked in corporate America for General Electric a long time ago and then publishing. My last major corporate entity was McGraw Hill, a publishing company. I was living in Orlando, but I was going back and forth to New York. My wife and I had started in franchising; we had several Massage Envy clinics. That was our beginning into franchising. After a while we decided that we wanted to diversify, for a combination of reasons, one being that my son, who had been working for Marriott in Nashville, was going to come back home.
When you began in franchising, were you just looking to get away from corporate life or were you doing the new business on the side?
At the time it was on the side.
I had a small software businesses that I started and sold to a partner, the only partner that I have ever had other than my wife, by the way. That one was almost eight years ago and was right when Massage Envy was starting.
Do you still have the Massage Envys?
Yes, we have the Massage Envys, the BrightStars and I am also an adjunct professor at Columbia University in New York City.
So what made you decide to become a partner with BrightStar?
It was a combination of things. We tend to like to have businesses in wellness, healthcare and education. Everybody has their own story.  My folks were Irish immigrants, and my 90-year-old mother was taking care of my 90-year-old father and, at the time, I had no idea we didn't have advocates, and they lived in Ohio. My wife's father had dementia and Alzheimer's. So number one, we liked BrightStar because it fit within the healthcare/wellness category. I also knew there was a demand in central Florida where there are a lot of retirees and obviously a lot of growth potential in the central Florida area. So there was opportunity, too.
What made you pick BrightStar over other companies that offer similar services?
The BrightStar brand is perceived as high quality. We have a combination of skilled and private unskilled, and I think that provides a lot of opportunity, number one. Number two, the brand is very strong. Obviously, BrightStar CEO Shelley Sun's influence as a dynamic leader played a big part. I am a member of the Franchise Advisory Council, and just the association with her and her leadership as the founder really struck a chord with us when we were looking at the franchise.
What is it about the type of work you do with BrightStar that you find fulfilling?
Part of my mission in life after all these years is to create organizations, businesses and entities where people have opportunities. That is my foundation and my purpose in life. If you look at BrightStar, not only the office staff but all of the employees that we have, we all have a great impact on individuals and families. Every day I'm reassured that my purpose in life is being fulfilled and that we are providing care to people who really need it. In none of the other industries I was in before did I feel that they were aligned with my value system and where I wanted to go in life.
Can you think of any favorite stories or fond memories of people that you have made a difference with?
We had an individual who was bedridden, and over a year-and-a-half, we provided care so that he is no longer bedridden. He is working from home still, but he actually works as a computer software developer. He was not able to do that at the time we started. Watching that progression just really is exciting.
What about BrightStar makes you think they are going to be around in 20 or 30 years?
I really think in my heart and soul, and from a business standpoint, that there is a strong demand for what we do, and that it's going to continue to be there.
Secondly, as the healthcare industry changes, BrightStar adjusts and changes with it.
I don't necessarily believe that all of the other home healthcare or nurse staffing companies are doing that. We do private pay and we don't take Medicare, but we do some Medicaid waiver insurance, and that enables us to not be controlled or influenced. We are not in a position as a home healthcare agency to be hampered from providing the care that we want to.
With so much going on and so many different locations that you have to keep track of, what does a typical day look like for you?
What I do is I act as the owner, but I have a Branch Manager. The locations in central Florida are co-located. I have one in Panama City, Bay County, which is separate. What I do is I spend my Tuesdays and Wednesdays focused on sales and doing ride-alongs. I have three sales and marketing managers. We have what we call Level 10 meetings, which is a very structured, accountable way of running meetings that we do with the sales folks. On Thursdays we have the Level 10 meetings with the staff. I have a cycle where I do bills or receivables on Fridays, and the rest of the time is really, really trying to be focused on growing the business.
Are you working Saturdays and Sundays, too?
Well in the beginning, yes. Frankly, the reason we were able to acquire these businesses in the first place is that the previous owners, very nice people, were trying to run it on one or two days a week. You just can't do that and have it be as successful as it could be. I think what happens is many people have a desire to be their own boss but not have to work a lot.  In the beginning, I was working probably seven days a week. You sprinkle in the Massage Envy, which my wife now runs primarily, and you don't have enough hours! But now it has gotten to the point where it is much more reasonable. Part of that is also I have a really good staff in both of those locations.
In terms of your goals for your BrightStar franchise, what are your long-term plans?
My ultimate goal is to bring all of the locations to a level where really we become very profitable with the existing staff and grow them significantly.
Somebody asked me several years ago, "What is your exit strategy?" I jokingly said, "Well, I don't have one." The thing is, I thoroughly enjoy working and running these businesses. I have to be careful because I have the personality where I can work 24/7 if I am not careful.
Knowing what you know now, would you become a BrightStar franchisee again?
Absolutely. I don't know if I would buy all six territories and four acquisitions again! I think the majority of BrightStar owners are multi-unit owners, and I think that you get some synergy that is associated with them. Also, as a result of that, you can create a level of efficiency with billing and payroll and some of the office duties.
Because you can centralize some of that?
Exactly. That is what we did.
How important do you think it is to have previous healthcare experience when coming into something like BrightStar?
I am pretty adamant about this when talking to people about coming into BrightStar. There are three sectors. You have to have a level of initiative and drive and excitement about this type of business. If you want to run a business just to make money, then you are just going to be chasing yourself. You need business acumen and, also, I strongly believe you have to have a level of sales and marketing experience or a strong desire to learn those. I've seen some individuals acquire the business who were more accounting and operational people and they never got out of the office.  They figured that they could just hire salespeople, but I am convinced that in any businesses, no matter if they are franchises or not, there is an element of sales and marketing where it is absolutely critical for the owner to be a part of. Lastly is just a level of fire in the belly and a desire to be successful.
You mentioned that you do ride-alongs with some of the sales folks.  What other marketing do you do to get the brand name out there?
We do advertising, of course. But more importantly, I believe in marketing from the standpoint of establishing relationships with the community, with hospitals, nursing associations, the assisted living facilities and those types of things. They all need to know who we are and that we're available and good at what we do.
Do you have any other family helping you out with any of this?
My son worked for us for two years after he moved back from Nashville. But his finaceé graduated from medical school, so they moved to St. Louis and went to work at BrightStar Care corporate. He is part of the Field Support group for BrightStar.
So, you have somebody on the inside now?
Yeah, but it was devastating having him leave because he was really critical to our business at the time. But he has done well and I'm really happy for him.
Want to join BrightStar Care?
For information about buying your own home healthcare franchise, fill out the form on this page to download our free executive report. BrightStar Care gets hundreds of inquiries a week.