Entrepreneur Karen Pinderski Acquires Home Care Business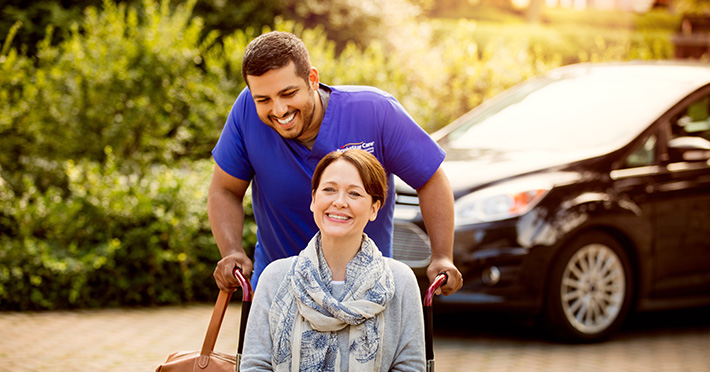 Business Dedicated to Providing a Higher Standard of Home Care in Barrington & McHenry County
CRYSTAL LAKE, IL – Entrepreneur Karen Pinderski is fulfilling her dream of making a difference in the lives of local residents by purchasing a home care and medical staffing franchise. BrightStar Care of Barrington & McHenry County provides a range of compassionate, person-centered medical and non-medical care to people of all ages in the safety and comfort of their homes. In addition to offering a myriad of comprehensive services that meet the highest industry standards, BrightStar Care of Barrington & McHenry County will also work to help educate residents on the right questions to ask when searching for in-home care for their loved ones.
Prior to investing in BrightStar Care, Karen spent most of her career in the pharmaceutical industry – holding leadership level positions with Abbott, Amerisource Bergin and Pfizer. While she always had an interest in owning her own business, she realized the value of broad-range leadership experience and how important those skills would be when it came time for her to pursue her entrepreneurial calling. With a core belief that the elderly should be cherished and treated with respect, coupled with a personal experience of her father-in-law needing professional care at the end of his life, Karen knew she wanted to pursue a path that provides people with the ability to maintain their dignity and happiness.
"I have had the opportunity to see what a difference professional care made at the end of my father-in-law's life – a quality of care that allowed him to pass peacefully in the sunroom of his home surrounded by family. This was his wish and professional care made it possible," says Pinderski. "Through this powerful experience, a seed would be planted for where I am today and set the standard in the elderly care market. BrightStar Care is truly the industry leader when it comes to quality standards and I look forward to building upon the existing legacy and continuing to provide a higher standard of care to the residents of this area for many years to come."
BrightStar Care of Barrington & McHenry County, which is part of a network of over 300 franchise locations nationwide, serves Barrington and all of McHenry County, and offers local residents a wide range of medical and non-medical services all overseen by a Registered Nurse Director of Nursing. The BrightStar Care's Director of Nursing, Gina Maki, creates unique, personalized plans of care for each client and manages a professional care team of well-qualified, experienced caregivers, Certified Nursing Assistants and RNs to deliver expert, compassionate, and personal care 24 hours a day, 7 days a week. In order to provide the highest standard of care possible, BrightStar Care is looking to add to its experienced clinical team by hiring additional qualified Registered Nurses and Certified Nursing Assistants.
The national BrightStar Care franchise organization has received The Joint Commission's Enterprise Champion for Quality award for the past five years in a row and is committed to having each of its agencies comply with Joint Commission standards — a mark of clinical quality earned by such healthcare organizations as the Mayo Clinic. BrightStar Care of Barrington and McHenry County can be reached by phone at 224-858-4280.
Read the original post on: 
patch.com