Local Entrepreneur Brings Higher Standard of Home Care to Frisco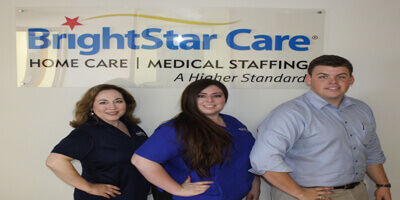 Alison Richardson and her franchise, BrightStar Care Frisco, have earned the prestigious accreditation from The Joint Commission, the oldest and largest nationally recognized health care quality standards organization. This Gold Seal of Approval validates BrightStar Care Frisco's commitment to delivering care to the highest clinical standards to the public.
"Earning this accreditation sets us apart from other in-home care providers in the area. We are the only Joint Commission accredited in-home personal care agency in the Frisco and Carrollton area," said Richardson. "It shows our clear commitment to a higher standard of care. It is a privilege to serve our clients and offer assurance to family members that their loved ones are being cared for by the most qualified people."
BrightStar Care Frisco serves the Greater North Dallas area including Frisco, Carrollton, The Colony, Coppell, Addison, Farmers Branch, and Western Preston Hollow.
The agency, which is part of a network of 315 franchise locations nationwide, offers a range of care services, all overseen by BrightStar Care Frisco's Director of Nursing Viviana Anselmo, RN, MSN. Anselmo creates personalized plans of care for each client and oversees a professional care team of well-qualified, experienced caregivers that deliver expert care 24 hours a day, seven days a week.
Anselmo has over nine years of nursing experience in a variety of health care settings. "I ensure that our clients' plans of care meet their individualized personal and health care needs," said Anselmo. "With our skilled and compassionate team, I know clients receive excellent care."
The national BrightStar Care franchise has received The Joint Commission's Enterprise Champion for Quality award for the past five years in a row and is committed to having each of its agencies comply with The Joint Commission standards – a mark of clinical quality earned by such health care organizations as the Mayo Clinic.
Recently, BrightStar Care of Frisco was honored with the 2017 Provider of Choice and Employer of Choice designation from Home Care Pulse – an award granted only to the top-ranking home care providers, based on client and employee satisfaction scores.
"Alison and her team have shown the kind of dedication to excellence that is synonymous with the BrightStar Care brand," said Thom Gilday, president and COO of BrightStar Care. "Her team's commitment to quality, shared by our other 315 locations nationwide, has earned us the prestigious Enterprise Champion for Quality Award from The Joint Commission for the past five years."
About BrightStar Care
Based in Chicago, BrightStar Care is a national private duty home care and medical staffing franchise with 315 locations which provide medical and non-medical services to clients within their homes, as well as supplemental care staff to corporate clients. BrightStar Care franchise locations across the country employ over 2,500 registered nurses who play a unique role in overseeing the care for each individual client, a service that no other private duty home care provider offers. In addition, BrightStar Care is the only national home care franchise to receive The Joint Commission's Enterprise Champion for Quality award every year since the award's inception. In 2017, the company ranked No. 69 on Entrepreneur Magazine's Franchise 500 list and was included for the tenth consecutive year on Inc. Magazine's prestigious Inc. 5000 list. For more information on BrightStar Care please visit www.brightstarcare.com; to find out more about BrightStar Care Franchising, visit us here.