Finding the Perfect Work-Life Balance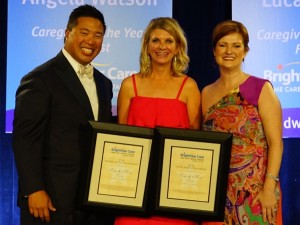 Many people get into franchising to achieve a better work-life balance. Most are shooting for less "work" and more "life." But not Becky Torrez – she wanted to work.
A former teacher, Torrez chose to be a stay-at-home parent as her two children grew up. Her husband worked a corporate job, but they dreamed of going into business for themselves. When the kids started junior high and her husband reached a transitional point in his career, the two decided it was time to take the leap into business ownership. They invested in a BrightStar Care franchise, and Torrez worked tirelessly to get their location off the ground.
"The idea was that he would work his job for a couple of years and then join me in the business, but then we decided we'd rather stay married than work together," Torrez said with signature dry humor.
In a matter of months, Torrez went from a busy PTA mom to a successful business owner. And she has some advice for other parents looking to reenter the workforce and build fulfilling, self-guided careers.
BrightStar Care: Has your background as a stay-at-home parent helped you build skills for entrepreneurship?
Becky Torrez: Yes. Managing a household is a lot of work, and it's a thankless job. I see the advantages of a traditional career path – you get accolades, you see the fruits of your labor. But in order to be a stay-at-home parent, you have to multitask, and you have to be really good at managing people. I think that certainly set me up for success as an entrepreneur. It's the same with teaching. If you can manage 30 first-graders, you can manage a business.
BSC: What is your schedule like now?
BT: It's so different every week. Yesterday, I was out in the field meeting clients and their families. Tomorrow I'll be in the field all day meeting referral sources. Today, I'm in the office helping with scheduling because an employee called off. With BrightStar Care, no two days are the same.
My son is a lacrosse player, so I spent my last weekend sitting on a lacrosse field. This week I'm heading out of town to go see P!nk with my girlfriends. So I'm able to maintain a good balance in everything that goes on with my work. Certainly, as a business owner you work a lot, but you have that flexibility to make your own schedule.
I like being my own boss. If I wake up and one of my friends wants to go to lunch, I can go to lunch. When I was a teacher, I was lucky if I got to go to the bathroom.
BSC: Do you have any advice for stay-at-home moms and dads looking to reenter the workforce?
BT: You have to do what's right for you and your family at the time. You know your family and what you guys can sustain.
But it's really great to jump back in. It's nice to contribute and to have something new to focus on.
BSC: How has BrightStar been as a franchise partner?
BT: I love the other owners so much. I've heard that with other brands there can be some competition, but I talk to other owners once or twice a day. We help each other and support each other.
The senior leadership team is the same way. They're very supportive of us.
BSC: What was the most challenging thing about your career transition?
BT: The beginning can be scary. You put your savings into something, and your money dwindles those first few months.
Within the first year, it turned around, obviously. I call it the snowball effect. You get one client, then it's two, then it's four, then it's eight. I had five employees, and now I have 130. You start seeing it happen, and you think, "Okay, we can do this."
BSC: Has business ownership changed the way you see yourself?
BT: Having no background in business, and then building and running a successful business, sometimes I think, "Oh my gosh, I need to pinch myself."
You're going to fall on challenging times, but you've got to pull yourself up and deal with it. It's a great confidence-booster when you think about what you've built. When I think about how many jobs we've created, I think that's a very exciting aspect of this, even on tough days.
So, when things are challenging, my husband says to me, "You'll get through it. You always do."
BSC: What do you enjoy most about being a business owner?
BT: You're in charge of your own destiny. You reap what you sow. My husband works 50 hours a week, and he has a great job, but he's working hard to build up somebody else's wealth. But for me, I get the benefits of what I do. If I work hard and do a really good job, I make more money. You really can control what you put in and what you get out.
To learn more about franchise opportunities with a brand that welcomes first-time business owners, download BrightStar Care's free franchise overview.