How One Multi-Unit BrightStar Care Franchisee Found Her Niche and Made an Impact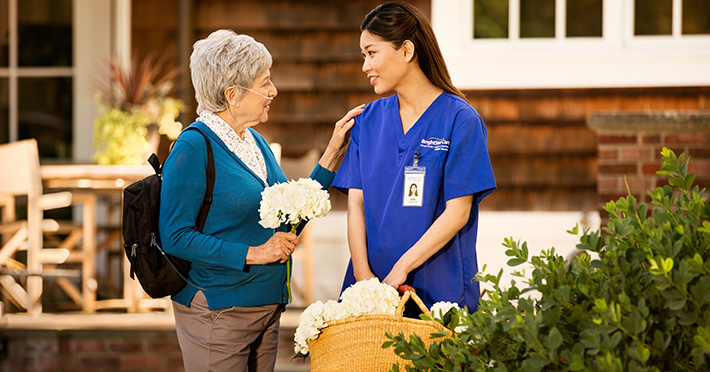 Multi-unit BrightStar Care franchisee Reem Aloul worked on international economic and social development projects in Africa, the Middle East and Eastern Europe for more than 20 years.
But after constant travel, she wanted to set down roots and start a business. Reem was passionate about health care and education, and she knew she wanted to invest in a franchise because she did not want to start from scratch in terms of systems and procedures—especially because she did not have a medical background.
Ultimately, Reem decided to invest in a home health care franchise because it provided her with an unparalleled opportunity to help people. Reem is originally from Jordan, where families and social networks are tightly knit and there isn't really a need for a home health care industry because people take care of their families.
"I'd always wondered how people manage here with the large geography and family members being busy," Reem said. "I really liked the idea of helping people stay at home safely, taking care of grandmas and grandpas as well as taking care of little kids who may have certain illnesses that require an extra pair of hands at home."
Reem signed on for two territories in Arlington and Alexandria, Va., in April 2013. Before the end of the year, she received her license and started serving clients.
Fulfilling the Need for Child Home Care
Reem recognized early on that the home health care industry is rapidly growing and becoming highly competitive. She sought to differentiate herself from other home health care agencies by providing home care for children, as well as adults. One-third of the services Reem's agencies provide is skilled pediatric care services.
"It's a niche market for us," Reem said. "There is a ton of demand and not enough quality supply at all. There are a few other options for seniors to get care in our community, but not really for children. Very early on, we identified child care and pediatric services as a gap in the market, and we went after it."
In order to build that business, Reem started by offering child care services, such as babysitting and nanny services, for healthy clients. Then, her agencies started taking on cases that needed nurses, such as children with diabetes. Now, Reem's caregivers skillfully care for patients with complex medical needs.
With BrightStar Care's full continuum of care, Reem is able to offer companion and skilled nursing care for children that differentiate her business from other home health care agencies.
Comforted Clients Make All the Hard Work Worth it
While Reem is proud to have accomplished the operational goals she has set for business, her greatest point of pride is the positive feedback she receives from clients. Feedback such as, "I don't think my mom would have lived this long without your caregivers," is extremely rewarding because Reem knows her business is improving people's lives.
For example, one of her teenage patients receives IV therapy from Reem's caregivers once a month. Prior to becoming a client, he had extreme anxiety about the experience. Reem sent them an expert pediatric IV infusion therapy nurse, who made the process easier for the patient and helped relieve his anxiety about the procedure. Reem said the client's mother was so pleased with the level of care her son received that she reached out to thank the nurse and the agency.
"This is not an easy business to run," Reem said. "You're dealing with human life. It's hard, and it's 24/7, but when you get a call or email like that, it makes all the hard work worthwhile."
By providing a wide range of services with a trusted and accredited level of skill that aren't offered by other home health care franchises, BrightStar Care franchisees are able to set themselves apart and make a difference in their communities.
Are you interested in owning a business that allows you to help people in your community every day? Download our franchise report to learn more about franchising opportunities with BrightStar Care.