The Spark that Inspired These BrightStar Care Franchisees to Make a Major Career Shift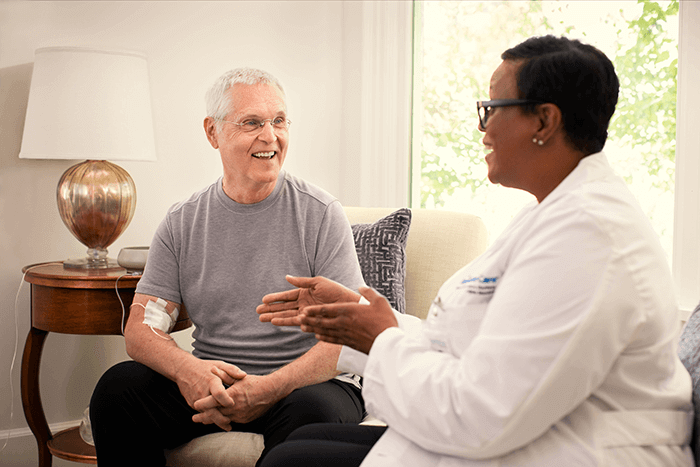 After 20 years in the cellular communications industry, Kris Davis had a growing desire to become his own boss. But, it was an infant who needed a lot of care that convinced him to make a career transition into the home health care industry.
In 2013, Kris and his wife Irina, who had a successful 25-year career as a budget director for a major airline company, became BrightStar Care franchise owners in Texas. A year later, they bought two more nearby and became multi-unit owners.
Kris experienced a lot of success in cellular communications. He managed call centers with hundreds of employees under him, developed one cellular provider's tech support teams and even created a software application that was rolled out to hundreds of tech reps. During that time, he earned his MBA in international business, and then he decided to pursue a doctorate degree. He was one class and a dissertation away from earning his PhD in applied management and decision sciences when a baby girl they adopted changed his and Irina's life.
Capitalizing on Operational, Management Backgrounds
Unable to have children, the couple adopted two brothers, ages 2 and 3, who were homeless in Houston. A few months later, Kris and Irina adopted a 6-month-old girl, followed by a newborn girl whose parents had developmental disabilities. Kris and Irina soon realized their new baby girl needed physical therapy for her development. It was then that Kris experienced a career epiphany, and he decided he wanted to help others experience the best quality of life possible.
He researched franchise concepts that matched his vision, but wondered how his and Irina's experience could possibly translate to a business built around caring for people.
"We're operational, we manage people," he said. "When my wife was with the airline, she worked at 137 airports and assisted the local manager at each. I managed multiple call centers."
But, when he found BrightStar Care, Kris knew he wanted to own a home health care business. He looked into opportunities with other home health care franchise companies, but BrightStar Care stood above the rest.
"I can't think of a better product than taking care of someone's mom and dad instead of dealing with inanimate objects like computers, systems and telecom stuff," Kris said. "BrightStar Care had the most educated and professional executive team. They had the best 10-year game plan. Because I had an MBA and was used to evaluating companies, I saw them being at the top of the market in the long run."
Success as Multi-Unit Franchisees
In 2013, Kris and Irina bought an existing BrightStar Care franchise in Fort Worth, Texas, with 30 employees. A year later, they bought a second and third in Grapevine and Keller, respectively. Altogether, Kris and Irina's BrightStar Care franchises have 100 caregivers who serve families in north Texas.
"I can look you in the eye and say I have had more fun in the last four years than I had in the previous 20 years," Kris said. "The main reason for that is: It's rewarding when you help somebody's mom or dad, and you can do right by them when they don't have anyone else to turn to."
In addition to helping clients and their families with companion, personal and skilled medical care, the Davises found another way to help people potentially live better lives while enjoying an additional revenue stream – medical research.
Pharmaceutical and medical research companies hire Kris and Irina's nurses to assist with monitoring patients, collecting data and reviewing documents during studies that require a skilled medical eye. It can be lucrative if the company likes working with your nurses, but continuous participation depends on the quality of work the nurses provide.
"There's a lot of intrinsic value doing these things. I like that we're helping clients and doing medical research" Kris said, adding, "All the more reason to hire good people. When you hire good people, they are in demand."
Both Kris and Irina work in sales. Irina is skilled at personal interaction, so she shines when meeting clients and pairing them with the right caregiver. Because Irina is skilled at matching caregivers with clients, the average time caregivers stay with clients is 270 days – more than the industry average. That kind of retention allows Kris and Irina to focus less on selling and more on other parts of the business.
"On any given day, you wear multiple hats," Kris said. "One day I'm recruiting, one day I'm in sales, one day I'm billing. But, we split it up. We have daily calls and weekly meetings and divvy up the action items for that week."
More Rewards to Come
Kris said anyone who genuinely wants to help other people can have a successful career with BrightStar Care like he and Irina have. But, they have to put in the work – they shouldn't expect to be a success just because they own a franchise in a system with a great reputation. The first step toward success, though, is recognizing the potential of the home health care industry.
"It's a very rewarding career. If you like to help people, this is a great industry," Kris said. "The baby boomers are retiring and this is the industry for the next 20 years. For my second career, this was the right choice because it's going to carry me for a long time."
Are you interested in meeting the growing demand for home health care services by opening a home health care business of your own? Learn about franchise opportunities with BrightStar Care by downloading our free franchise review today.