Q&A with BrightStar Care multi-unit franchisee Jeff Tews
Corporate downsizing has caused many in that world to re-examine their career choices and priorities in life. One such person is BrightStar Care franchisee Jeff Tews, whose own corporate and personal experiences led him to capitalize on an opportunity to serve the aging Baby Boomer generation.
With more than 30 years of managerial experience at telecom companies and banking institutions, Tews faced a crossroads when his position at a major bank was eliminated. Instead of returning to the corporate world, he began to research franchising opportunities with his wife and business partner, Susan Rather. They became the fourth franchisees of BrightStar Care and have grown their business into a top franchise in the BrightStar Care family.
Recently, Jeff Tews made himself available for this interview.
How many franchise locations or territories do you have?
We have four BrightStar Care territories in Wisconsin. Plus, we have the first BrightStar Senior Living franchise. BrightStar Care is expanding their brand to include a memory-care assisted-living community. It is a physical building and a different model than home care.
So you are one of the first franchisees for that particular model?
Actually, I am the only one right now. BrightStar Care ran it for a year at first so that they could get all the regulatory approvals in place. Then my wife and partner, Susan Rather, and I picked it up. It's been operational about a year and a half now.
Were you in healthcare before you came into the BrightStar system?
No, I was not. My most recent job before this was as Senior Vice President at a major bank.
I was hired into a project that lasted for about three and a half years. When that came to a conclusion, the need for my services went away, so we reached an agreement that gave me a year's severance. That, in turn, gave me the opportunity to think about what I wanted to do in the next step of my career. I decided that I wanted to have my own company. When I found BrightStar Care, my mom had mid-ranged Alzheimer's and I was a distant caregiver for her. She was in Minnesota and I was in Wisconsin.
So when the BrightStar opportunity was presented, it was a good match. In my volunteer work, I had been Chair of the Minnesota Chapter of the MS Society and all of that work helping others was very rewarding to me. So, part of the search I was doing was to find work that would be rewarding and where I could create a positive culture for employees. I had a realization of how important it is to empower employees and listen to employees and give them a clear understanding of the mission, then letting them find the best ways to do the work. That wasn't always possible within the corporate culture of two very established organizations.
What aspects do you like about being the owner of your own business?
I like helping others and having a business where we set the mission statement as "peace of mind." That happened to match up with what BrightStar's mission statement is. I knew what it was like to be a distant family member and have the anxiety about whether or not the right level of care was being delivered. Being able to influence that through the BrightStar model really does allow each owner to have a lot of flexibility in the types of service that they offer. Being able to have our standards of quality around the people we hire and how we train them and how we direct their work is critical to our success. It is critical to our mission. So, having that type of control is really what I was looking for in having my own business.
What is the "genius" of the brand? When you strip everything else away, what is it that BrightStar brings to the table that others don't?
If you look at other comparable franchises like Senior Helpers and Comfort Keepers, BrightStar offers a wide variety of services that others don't. The ability to create your own niche that fits whatever the needs are in your community is quite different than other brands. For example, we have about one-fourth of our revenue come from our staffing business. We provide medical staffing to skilled nursing facilities, assisted living, clinics and hospitals, just about anybody looking for temporary staffing.
The best success we have with that is when we find contract opportunities where they have an employee on maternity leave or they are looking at hiring someone. Sometimes it is going to take them some time to hire and train that person, so they will contract with us, and our recruiters will find a match to that job. It is wonderful to provide that peace of mind that they get somebody who is going to come every day, plus they get a chance to test-drive them. We often have those turn into permanent assignments to that company and they pay us a buyout fee. It is also a good thing for the employee to be able to test-drive working at a place. So, we have that sort of flexibility.
The other thing that BrightStar has is a really solid network of national accounts where they may be representing an insurance company, or maybe they conduct flu shot clinics, or a whole wide range of things and they want to have one company that they can call upon to serve them across the U.S. An example of that is a company that provides an employee benefit of being able to call in at the last minute for a sick child or sick adult at home, and they can't come to work.
The employee will pay a $20 copay and they call that company and that company calls us and says, "Okay, we need somebody at 7 a.m. at Mrs. Anderson's house, and here is the care that is going to be needed." We confirm and we send our person there to cover for that employee. We bill that national account. That national account work is not something that I have seen other home care franchises really get into, so that is a unique piece. Being able to do skilled care and Medicare work is also different, because other franchises really don't go there.
So you really do have a lot of flexibility in designing your own model within the model?
That is right. The reason that is so beautiful is that each marketplace has its own needs and niches. We have been very successful in our four territories with our home care model. There are others who have gone into the marketplace and found there is already a dominant company providing that service, so it gives our franchisees alternatives to get revenue started.
In addition to the national network that you just mentioned, what other ways does BrightStar HQ support you?
There are several layers of that. I would say the first is their awareness of the changing regulations and legislative issues. They are able to keep a pulse on what is going on that we need to be aware of.
That probably changes on a daily basis, doesn't it?
Yes. Susan and I are very engaged. I am on the board of directors of the International Franchise Association, so we have our own network going, but it's good to be able to get their thoughts. They have a wonderful clinical staff at BrightStar that is thinking about training that they can offer for our employees.
We have a Dementia Connection training that is pretty special and a great gift to our employees dealing with our dementia clients. That is an example of getting some clinical support in the form of training.
They have a great system with scheduling, a billing system that houses our caregivers' information and schedules, as well as our clients' information and schedules, and blends the two into one view for us. It is a pretty unique system. It is a proprietary, in-house system that is for BrightStar only.
Our system is very unique in the way it helps us with the more complex billing issues. It has a mobile capability, so that we are able to have caregivers use their smartphone to check in and out of a job, so that we know they are at the client's primary place.
One of the worst calls you get in this business is that one of our caregivers didn't show up. On the other hand, it is possible the caregiver was in fact there, but the client has some cognitive issues and doesn't remember. That has happened, too.
This way you have a way to prove it.
We do know. BrightStar offers a web-driven program where the clients can see their schedule online. They can see and receive their invoices that way and it gives them a direct way to look at who was scheduled to come.
Do you have any special memories of a particular client that you made an impact with?
It is why I am in this business. It is particularly moving when you have made that kind of difference, and people really recognize it. I had one where we started caring for a woman, a mother, and I think we were there for four and a half years. In the process of caring for her, her husband's dementia grew worse and so we were really caring for both of them. We were there 24/7 and that is an expensive deal. At that time I think we were at $23 an hour so you can do that math on that.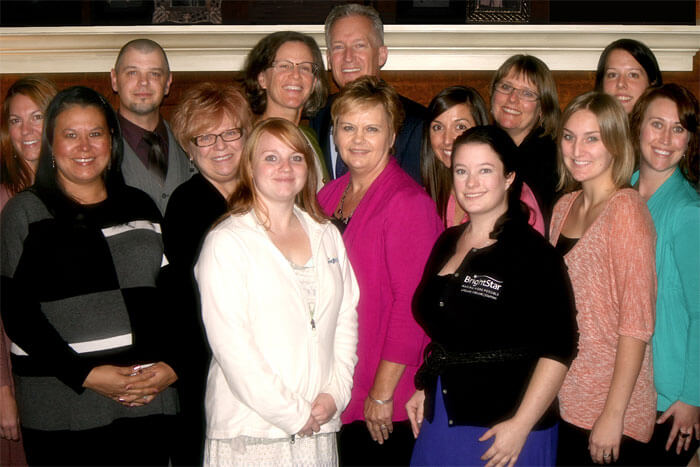 That can really add up!
About $4,000 a week. The reason that the story is significant is the wife passed away. I had regular conversations and a relationship with their son. He was really happy that she was able to pass at home and that she and the dad were able to be together during that time. We cared for him for a little while until it became obvious that because of his dementia, it really didn't make a lot of difference where he was living. Since being at home wasn't that important anymore, they moved him to a memory care facility.
About two years went by and he passed away, too. Susan and I went to the funeral and we walk into the viewing site, there's the son across the room talking to someone. Now, it had been three years and their parents had spent about $400,000 with us in terms of care. The son could've thought that that was a bad thing, but he immediately breaks the conversation he was in and walks over, gives me a giant hug and just expressed what a gift it was that we allowed his mom and dad to stay together during their last couple of years and be happy and safe at home. I can't describe the feeling of being able to provide that kind of quality care.
You mentioned Joint Commission Accreditation earlier. Why is that important?
BrightStar has encouraged franchisees to contact the Joint Commission and get their accreditation. The Joint Commission is the agency that accredits hospitals and skilled nursing facilities. They have a home care division, but BrightStar is the only franchise group in the U.S. that has embraced that. For our peace of mind, Susan and I believe that it is a great thing to have an independent agency come in here and evaluate the quality of the plan of care that we are providing. Also, they make sure we have the right credentialing and are hiring the right people and just make sure we are doing the right kind of things.
They have a rather elaborate survey that they do. When I tell people at hospitals and skilled nursing facilities that we have Joint Commission Accreditation, they often say, "Why?" In a hospital, they are fearful of those because of what the repercussions can be if they got a bad rating, but we embrace it. It's been a real learning experience for our nursing team and case management team and it is peace of mind for Susan and me.
Now that you have been in it awhile, how important do you feel previous healthcare industry experience is in starting a BrightStar franchise?
You need to hire a really good nurse, a Director of Nursing who does have that experience. Our Director of Nursing, Linda, has been with us for almost nine years. She has her eye on quality all of the time. So you need to hire people that have that experience, but you don't need it yourself. BrightStar provides real solid training to the owners.
They've got pre-opening training that you go to and then they have a follow-up team, BrightStart, who follow you as you begin and are there to hold your hand and make sure you are getting the right kind of start, hiring the right people and doing the right things in terms of building your reputation. We have wonderful support. You don't need to be a medical expert in order to be successful as a BrightStar owner.
Want to become a BrightStar Care franchisee?