As our parents age, we're inevitably faced with the decision of how to best care for them.
But, for BrightStar Care franchisee Jeff Emrich, there was never any question that home health care was the right course of action for his young-at-heart father.
Jeff's dad re-married at 80 years old, after spending most of his days with a longtime friend of his late wife's. The couple had a strong, happy marriage for 14 years until Jeff's father passed away in his mid-90s – comfortably and peacefully at home, and with his wife at his side.
"Because of home health care, my dad was able to enjoy his life at home and in familiar surroundings, and most importantly, he was able to stay with his wife and anchor for the last decade and a half of his life," Jeff said. "Home health care was such a blessing for him and our entire family, and it was so wonderful that I wanted to be able to provide that experience for others."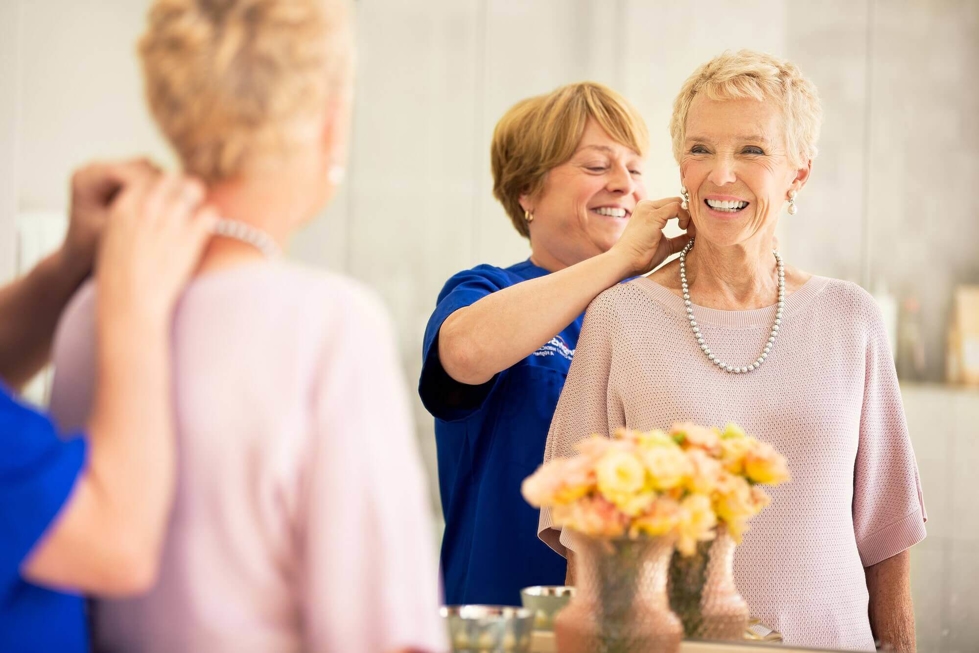 Doing Well by Doing Good with BrightStar Care
In 2009, Jeff's aspirations became reality when he and his business partner signed on to open two BrightStar Care franchises in territories just north of Chicago. "From the beginning, BrightStar Care was definitely my first choice," Jeff said. "We looked at several different franchise opportunities presented to us by a broker, but there was really never any other business that I knew would be as fulfilling, or compare to BrightStar Care. It was exactly what I was looking for, and I understood the value of the opportunity to offer quality in-home senior care to others – especially since it brought my dad so much happiness and stability."
After years in a family business in the food processing industry, Jeff had no experience in the home care, home health care, or the medical industry. But, his passion for helping and serving others in business proved to be an asset.
"My business partner and I have always shared the philosophy that business is about doing well by doing good," Jeff said. "Not only was this franchise a strong opportunity from a business standpoint, it's an inherently altruistic and good business to be in because it's all about helping and caring for others. This is something I'm proud to tell people I do, and I sleep so well at night knowing I'm making a difference in the world."
Learning the Ins and Outs of Caregiving from the Inside
Nearly three in four BrightStar Care franchisees have no prior medical background or experience – it's not a pre-requisite to running a successful home health care franchise.
Nevertheless, Jeff's boundless passion for the business prompted him to go back to school and become a certified nursing assistant (CNA).
"It really helped me understand the business in an entirely new way, especially from the caregiver or client perspective," Jeff said. "It has also helped in certain one-off situations where I've gone to clients' homes in an emergency situation, instead of calling on a caregiver to check on the client."
One such occasion was several years ago on Thanksgiving, when Jeff went to check on one of his 100+ clients. Everything turned out fine, but Jeff says the family was extremely appreciative they were able to have someone come out at the last minute on a holiday.
"Being in this business can be a 24/7 job, especially if you're as invested and hands-on an owner as I like to be," Jeff said. "But, it hardly seems like a job when you're able to make such a significant impact on someone's life. It's more than worth it to just hear from a client or their family how grateful they are for you."
Over the years, Jeff has had dozens of clients tell him they don't know what they would do without him, his BrightStar Care business or his caregivers.
And, while he puts in long hours and an unparalleled amount of attention into his business, Jeff's hard work has paid off from a business standpoint as well.
When he and his business partner first started out, it was just the two of them and one nurse running their home health care agency.
Now, Jeff's two franchises have grown to include well over 50 caregivers, several front office staff, more than 120 clients – and an endless list of referrals and interested prospects.
Traveling the World but Always Ready to Come Back Home
When he's not visiting existing clients or meeting and enrolling new ones, Jeff and his wife, Stephanie, can be found at any number of their favorite travel destinations.
Last year, they went to India for three weeks. The year before, they spent two weeks in China and another two weeks in Italy. This year, they plan to travel to Ireland in the fall, and they're already eyeing Argentina for another trip in the next few years.
Still, Jeff says it's never hard to come home, or return to work at a job you love.
"Part of the satisfaction of this business is managing both sides of it well," Jeff said. "You have to keep your eye on the business end of things so you can continue to achieve your mission and do the greatest amount of good in your community."