In an effort to continue to provide the highest quality care for its clients and offer its nursing staff valuable professional resources, BrightStar Care recently announced a strategic partnership with the Infusion Nurses Society (INS), the premier professional organization for infusion nursing.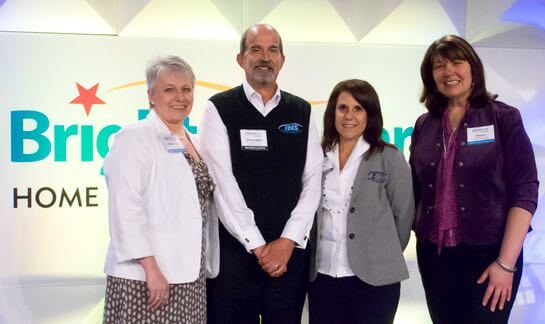 Formally thought of as an extreme measure used only on the most critically ill, infusion therapy has developed into a highly specialized form of treatment implemented in a variety of settings including the home, skilled nursing facilities and physician's offices. Throughout its network of 280 individually owned and operated locations across the country, BrightStar Care employs specially trained infusion nurses who are qualified to administer this specialized treatment in client's homes. The recent partnership adds another level of expertise to BrightStar Care's already unmatched quality standards.
"INS is the leading professional organization for infusion nursing, offering unparalleled resources as well as personal and professional enhancement tools that will assist BrightStar Care nurses in staying up-to-date on the industry standards for infusion therapy," said Sharon Roth Maguire, MS, RN, GNP-BC, and Chief Clinical Quality Officer for BrightStar Care. "Our goal is to provide the highest standard of quality care to our clients that exceeds national standards and the alliance between our organizations will continue to keep us as the premier in-home care agency of choice."
With the new partnership with INS, BrightStar Care nurses have access to educational meetings, professional development opportunities and scientific publications. The non-profit will benefit as well by having the only national homecare franchise to achieve the Joint Commission's Enterprise Champion of Quality designation for two consecutive years, as part of its network.  The Joint Commission, a nationally recognized healthcare quality standards organization, awards this prestigious distinction to select organizations who have proven their commitment to delivering the highest level of quality and safety by 95% or greater of all eligible locations within their system being fully accredited by and in good standing with the Joint Commission .
"INS is honored to partner with the BrightStar Care team," said Mary Alexander, MA, RN, CRNI®, CAE, FAAN, Chief Executive Officer of INS. "Since our inception more than 40 years ago, INS has set the standard for infusion care and we are committed to delivering infusion-related education and resources to BrightStar's team of care professionals to help deliver a higher standard of in-home infusion care."
As a healthcare provider that provides care for clients in homes, senior living communities, hospitals, and more, BrightStar Care is on the front lines and has the ability to communicate the needs of infusion therapy patients back to INS. In addition, BrightStar Care nurses can relay information on what resources are most beneficial for nurses, further advancing the practice of infusion nursing.
"The alignment of our organizations will benefit not only our valued nurses who can utilize INS support and educational opportunities, but first and foremost BrightStar Care clients who will continue to reap the rewards of our efforts to provide the highest quality care possible," added Roth Maguire.
About Infusion Nurses Society
The Infusion Nurses Society (INS), located in Norwood, MA, is an international nonprofit organization founded in 1973. For more than 40 years, INS has been committed to bringing innovative new resources and opportunities to a wide range of healthcare professionals who are involved with the specialty practice of infusion therapy. The organization is dedicated to advancing the delivery of quality therapy to patients, enhancing the specialty through stringent standards of practice and professional ethics, and promoting research and education in the infusion nursing practice.