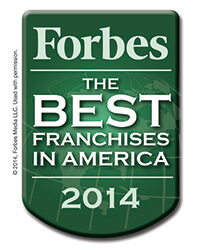 Forbes Magazine recently named BrightStar Care as the #1 franchise system in the category of brands with entry costs of up to $150,000.
The Forbes ranking was created using intel and statistics from FRANdata, the only research and information company that exclusively studies franchising. FRANdata analyzed more than 3,000 chains, considering demand for the franchise brand, success of existing franchisees and franchisor support from the perspective of "lender friendliness." In addition, FRANdata examined each brand's growth and continuity rates over the 2008 and 2012 period.
Competition is fierce in the home healthcare field as the number of care agencies throughout the country continues to grow each year. According to a FRANdata report, while there were a mere 13 home-health franchise brands in the country in the year 2000. Today, that number has grown to 56 companies. With the demand for in-home healthcare rising, along with the number of independent and franchise brands, BrightStar Care continuously comes out on top, as the brand has also been ranked a top home health, medical and senior care franchise in Franchise Times' 2013 list, #3 in the Franchise Gator "Franchise 100," and One of the Top 25 World-Class Franchises according to the Franchise Research Institute.
"This award is a result of the passion of our support team to help our franchisees achieve their success and reach their business goals," said Shelly Sun, CEO and co-founder of BrightStar Care. "We take into account all of our franchisees' feedback and include them in our continual investing and the ongoing improvement of our brand through regional summits, advisory councils, field support visits, quarterly town hall meetings, monthly best practice calls, and more. We focus on having the highest standard of care for families and being the employer of choice for caregivers and with those two things then we, franchisor and franchisees, have the opportunity ahead for success and making a difference."
This prestigious ranking comes on the heels of BrightStar Care announcing its new tagline and brand positioning as, "A Higher Standard of Care," in part sparked by third-party market research the franchise conducted that showed family caregivers seek a higher standard of care for their loved ones, but have difficulty finding it. The Higher Standard of Care message was particularly fitting following recent recognition by The Joint Commission including awarding BrightStar Care with the prestigious Enterprise Champion for Quality designation, further setting the franchise apart as a quality-focused care provider. In addition, BrightStar Care franchise has recently announced its efforts toward building a worldwide brand presence, looking to expand into new and emerging international markets like Canada, the United Kingdom, New Zealand, Australia, Japan, and the rest of Europe.
Learn more