After years of hands-on work, owner runs suburban Chicago home health franchise remotely from home in South Carolina
BrightStar Care franchisee Jim Flickinger and his wife, Judy, felt the need for a change of scenery. Judy was ready to retire from her position as the franchise's Director of Nursing, but they wanted to continue to own and operate the business they had built in Wheaton, Illinois. After spending several years working hard to get their business up and running and building a good reputation with local referral sources, they were able to hire able managers who could keep the momentum going after they decided to move out of state. Thanks to the wonders of modern technology, Jim can still run the business from his and Judy's new home in Beaufort, South Carolina, handling the high-level operations, while his talented office staff in Wheaton manages the day-to-day functions of the home health franchise.
How do you manage running the business remotely?
I've been in business with my home health franchise about seven and a half years, and I've found that being down here in South Carolina, I can actually sort things out. I have an office team of 13 people and the day-to-day activities are cast to my team, and then I try to concentrate on the higher-level critical functions, although it doesn't always go that way. With email and cloud-based technology, I can do just about anything from down here.
Why did you decide to move to South Carolina and run the business remotely?
My wife and I founded the business and got it going. She was our director of nursing and was ready to retire, so we found a replacement for her and decided to move to a warmer climate.
What made you decide to become a BrightStar Care franchisee?
I was at the same job for 24 and a half years. I was a part-owner and marketing executive for a regional engineering firm. The economy really turned bad for that particular industry. It was nothing but growth for more than 20 years, but in 2008 when I was on the board, we cut the company in half based on declining need for our services. I laid myself off and found BrightStar Care. I didn't know how it would go in the beginning, but it went pretty well. We were courted by another home health franchise organization, and in comparing the two it was obvious that BrightStar Care was of a much higher quality. Since then I've never even heard of the other guys and of course, BrightStar Care has really taken off.
From the client's perspective, what would you say really stands out about BrightStar Care?
We charge more than some of the competition in our market, so I look at it from the client's standpoint. What makes the higher prices a better value? We offer premium services. The comprehensive, complete medical service is a big deal. There are a number of other medical competitors out there but the comprehensive service we offer, with an RN looking over every case, immediately appeals to the clients and client families. It makes them more confident in placing their business with us. Many times, the family's out of the area, so we can be there for the client for them.
What do you enjoy about owning the franchise?
This operation provides gainful, well-paid employment to my staff, and ownership is rewarding. I enjoyed serving our clients when we started and still do today. We fill a need in the marketplace. Our business has changed in the last several years to meet the community's significantly increased needs for medical staffing. Currently, about 40% of our revenue volume is in medical staffing and the need there is acute. In fact, we can't even fill it all, no matter how hard we try, because we can't recruit staff any faster. That need is critical, and our clients are very appreciative of what we do for them in that area.
In what ways do you work with the corporate team at BrightStar Care and how have they helped you?
When you first start up in a franchise business, the corporate team really earns their royalties. Different matters come up all the time. Since they develop and control the software system that runs our business, that's constantly evolving and they have good support for that. We tend to hear a lot from corporate during our national conference, and it's getting toward that time. They've been very supportive.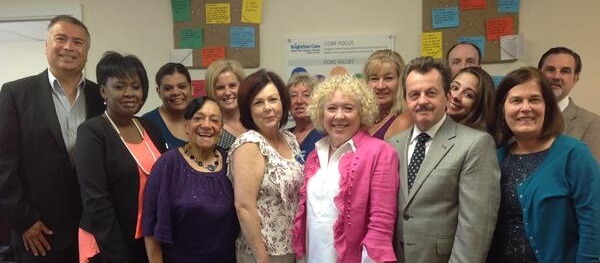 This is obviously the type of business that makes a big, personal impact on your clients. Do you have any particular clients or stories that have stood out to you over the years?
We've served something approaching 3,000 clients now, so the stories are endless. I'm not as involved in the direct client care anymore, but I can still give specific examples where, when the patient case ended, families have credited BrightStar Care with giving their loved one to them for a longer period of time. I was at a funeral home a few years back with my wife and one of the community leaders in Glen Ellyn, Illinois, and we had been deeply involved with that family. The family formally thanked my wife for giving them their father for an extra three years, and those stories are almost routine at this point.
Our current Director of Nursing, Kelly Honn, was named Nurse of the Year for the entire BrightStar Care system this year. She conducts her case management at the highest level, and she receives the same kinds of comments and praise from the clients. We focus on high-quality care for all of our clients, and they're appreciative of that.
What does your typical day look like?
Working remotely, my day isn't typical compared to most owners. I get about 300 emails a day and spend a lot of my time addressing those. Somehow I managed to funnel most of my business activity down to the medium of email and I deal with it all that way. Interestingly enough, I've been able to largely manage the phone out of my business life. There's times where I go days without working on my cell phone. I have a phone in my office, but I don't let it control me. I choose whether I answer the phone or not. It's mainly down to email activity and all the various business activities that I need to address can come in through my email.
I tend to spend a lot of time on looking at and approving the agency's financials in a number of ways. I spend some time managing my team of directors; I have five different directors working on different departments of the business. I would guess that 50% of my time is spent on some form of financial management. I'm also a part of one of BrightStar Care's performance groups where I get together with nine other franchisees. We look at how we're all doing, challenge each other and meet quarterly to try to improve our metrics and the way we run our businesses.
Was there much of a learning curve joining BrightStar Care from a different industry?
There really wasn't, and I wasn't too concerned about it when I started. I was a career marketing and sales expert. I know that the main critical function of any business is not the actual defined task, it's marketing and sales, and if you get that right you can hire the expertise in the various fields. It was that way in the engineering company. I was not an engineer, but I was valued because of my marketing expertise. By the end of my 24 years, I knew too much about engineering for a sales guy. I would devolve into engineering discussions rather than staying on sales and marketing.
When I joined BrightStar Care, I knew that I'd be able to learn what I needed to manage a medical and home health model. It turned out to be just the way I had thought. I've really never been stumped with a medical issue; any time we've had one, I've collaborated with one of our professionals. I went out and focused on pulling in new business and hired the expertise in the medical field, with the understanding that they would be the experts to help me and the clients through any issues that came up.
Knowing what you know now, if you were just starting out would you still become a BrightStar Care franchisee?
Oh, yeah. Given our track record over the past seven and a half years, I'd worry less. We got to the break-even point more quickly than I expected. Of course, it's always a scary time at the beginning of something new, but it all worked out.
Want to become a BrightStar Care franchisee?
For information about becoming a franchisee, fill out a form to download our free executive report. BrightStar Care gets hundreds of inquiries a week. To skip to the front of the line, click here to fill out our non-binding franchise application.