How BrightStar Care compares with Home Instead franchise opportunities
There are many home healthcare franchise opportunities available to entrepreneurs, with BrightStar Care leading the pack. When researching franchise opportunities in the home health space, no doubt Home Instead is one provider that will surface. So, how does a BrightStar Care vs. Home Instead comparison play out?
Skilled vs. Non-Skilled Care
BrightStar Care offers skilled medical care, non-skilled medical care and child care, setting itself apart from Home Instead, which only provides non-skilled personal care. BrightStar Care's full continuum of care provides its clients with the ability to scale their level of care based on their needs without having to change providers. By providing skilled care, BrightStar Care franchisees are able to keep clients for a longer period of time, maximizing revenue potential. In fact, many non-skilled care companies turn to BrightStar Care for staffing help when skilled care is required.
Joint Commission Accreditation
BrightStar Care requires all of its locations to be Joint Commission accredited, even though it is not mandatory in the healthcare industry. The Joint Commission is the organization that creates standards and accredits major hospitals throughout the country, such as the Mayo Clinic, the Cleveland Clinic and other world renowned healthcare institutions. This ensures that BrightStar Care maintains the highest quality of standards and care. Home Instead does not require its franchisees to receive accreditation.
Our Case Managers are RNs
Unlike our competitors, BrightStar Care uses a Registered Nurse to manage every case, even though it isn't required by state licensing. This ensures that a professional oversees the care for every patient and follows the prescribed care set forth by every patient's primary care physicians. This is widely publicized in BrightStar Care's advertising and marketing. "Every single BrightStar Care location has an RN Director of Nursing overseeing every case. And that opens up our ability to provide skilled services. When you look at all the ads, ours is the only one with a nurse in it, and it's no accident," says BrightStar Care Chief Marketing Officer Steve Schildwachter. Home Instead does not use RNs to manage every case.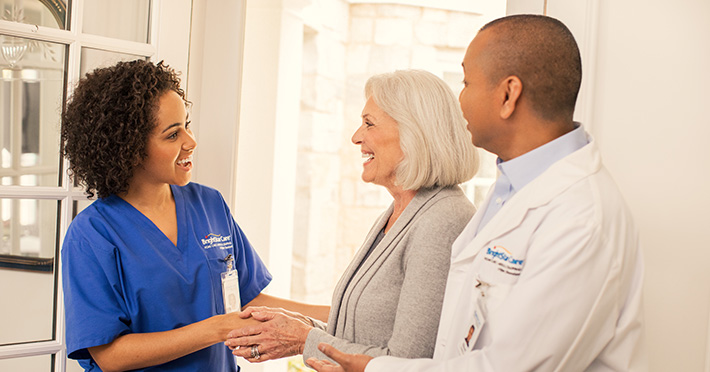 Multiple Revenue Streams
BrightStar Care's business model gives franchisees the ability to tap into multiple revenue streams and adapt their business to the needs of their particular market. This also allows for diversification, enabling BrightStar Care franchisees to better weather any economic or market fluctuations and grow their businesses. Available revenue streams include skilled care, non-skilled care, child care and medical staffing, providing temporary and permanent staff to other local medical facilities.  Home Instead's primary revenue stream is non-skilled care.
Locations
Home Instead has over 600 locations throughout the country. What this means to potential franchisees is that most, if not all, of the prime territories are already spoken for, leaving little real opportunity for new franchises. BrightStar Care, on the other hand, is a somewhat younger company with about 300 locations, both domestic and  international. There are hundreds of prime locations in highly populated areas available to new franchisees, which means huge opportunities for building a successful home healthcare business.
Want to become a BrightStar Care franchisee?