BrightStar Care Franchisees a Key Partner for Hospitals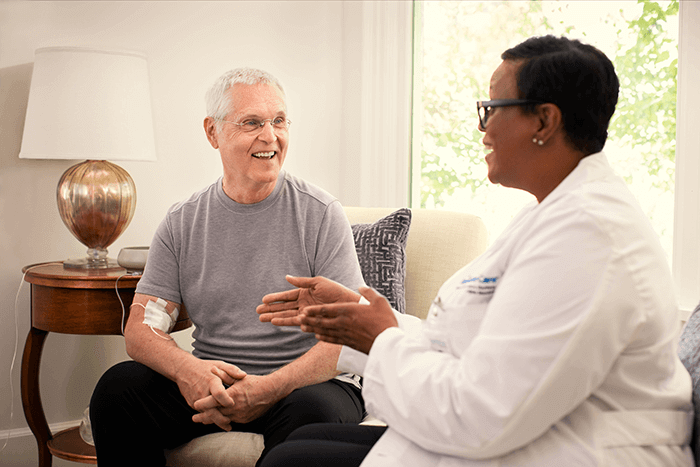 The multiple revenue streams available to BrightStar Care franchisees make the home healthcare franchise a lucrative market. With the elderly population growing each day and an increasing number of those individuals in need of memory care, there's more demand for homecare now than ever.
Specifically, partnerships with local hospitals provide BrightStar Care franchisees opportunities for transitional care and medical staffing—as a benefit for BrightStar Care franchisees and their caregivers—not only for additional revenue streams, but to provide care to a variety of clients in need.
Transitional Care
Approximately 80 percent of older adults have at least one chronic disease. The most common, heart disease, cancer, stroke, and diabetes, cause almost two-thirds of all deaths each year. An increase in these diseases and hospital visits calls for an increase in available transitional care. BrightStar Care's partnerships allow them to provide this important service.
One-fifth of this afflicted population will be readmitted to hospitals 30 days after discharge. Providing transitional care can make the difference between a health recovery and infection or hospital re-admittance. Partnering with hospitals or rehabilitation centers to provide this crucial transitional care can lower readmission rates and serve as a key revenue stream for a home healthcare franchise owner.
Higher Caregiver Satisfaction
With skilled medical workers in such high demand, recruiting and retaining staff is crucial. Offering additional job opportunities and revenue streams for caregivers is a selling point for applicants. Through BrightStar Care medical staffing services, caregivers are able to find additional opportunities and increase their own revenue streams.
Hospitals, senior living communities and additional partnerships create a prosperous environment for caregivers, making it easier to hire and retain staff. This healthy supply of staff is what makes these partnerships possible. Keeping both healthy and growing benefits the franchise location overall.
Staffing Opportunities
BrightStar Care medical staffing is a lucrative branch of operating a home healthcare franchise. These partnerships benefit caregivers, franchisees' bottom lines and, most importantly, the clients.
Medical staffing can fill hospital vacancies quickly and efficiently, while guaranteeing high-quality staff, a standard BrightStar Care refuses to deviate from. This service solidifies the brand and helps bring the BrightStar Care continuum of care to other local healthcare institutions.
Partnerships can help franchisees hire and retain high-quality caregivers, and generate additional revenue for both parties. Clients receive the best care from transitional care to ongoing home care through these mutually beneficial partnerships.
If you're interested in joining this home healthcare franchise, download BrightStar Care's free franchise overview.