New East St. Charles County BrightStar Care Grand Opening Featured on Patch.com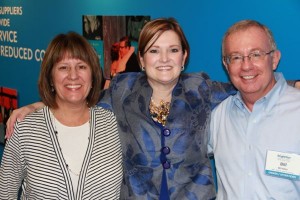 As a result of the PR support BrightStar home care / senior care franchise and FishmanPR provide to new owners, the local news website Patch.com featured an article about our newest owners in the St. Louis area, Bill and Nancy Allen. The article, titled "BrightStar Care Expands Care Giving Network to East St. Charles County; Provides Compassionate Care for Local Residents," is the result of our pitch to editor Kalen Ponche. We're pleased to see that the editor posted all of the pertinent details of the grand opening press release, including contact information for Bill and Nancy Allen, franchisees of the East St. Charles County BrightStar Care location, as well as the services offered at their location.
BrightStar Care, one of the fastest growing home healthcare and staffing providers in the country, recently opened its newest location in St. Charles at 1811 Sherman Drive.
Owned and operated by William and Nancy Allen, BrightStar of East St. Charles Countywill provide local residents in St. Charles and North St. Louis counties with adult and elder homecare and childcare, as well as supplemental healthcare staff to corporate clients such as hospitals and nursing homes.
The expansion into the area is part of a national growth initiative that has BrightStar Care prepared for an aging population that will likely require varying degrees of healthcare and caregiver support over the next several decades.
According to the U.S. Department of Health and Human Services, the demand for primary care services is likely to increase in the coming years as the baby boomers continue to age and are expected to live longer and healthier than preceding generations. In fact, census projections call for a 36% rise in the population of seniors age 65 and older by 2020 and 120% increase by 2050. And the number of those 100 and older will skyrocket, rising 71% by 2020 and 661% by 2050.
"There comes a time in everyone's life when they need a helping hand to overcome the challenges life throws at them and I knew that the tools and systems BrightStar Care already had in place would allow us to provide the high-quality level of care to my community and the surrounding areas," said William Allen, a former paramedic who was inspired to open a BrightStar Care franchise with his wife Nancy after observing that there is a great need for high-quality home health care in their community. "We couldn't be more excited to start meeting the challenges and needs of those in the community."
Today, BrightStar Care's more than 250 offices nationwide provide the full continuum of care, from private homecare for all ages to medical staffing service for healthcare facilities. While senior citizens make up the majority of the company's private duty clientele, BrightStar Care also works with children, workers' compensation cases, long-term care and Veteran clients, as well as private trust and public guardian payers.
"Our mission is to give 'peace of mind' to our clients by providing the highest quality healthcare staffing solutions," Allen added. "We are closely involved with the families we serve and support our clients and staff with every means possible. We are people who care about people."