Relief in Sight for Families Seeking Higher Standard of In-Home Health Care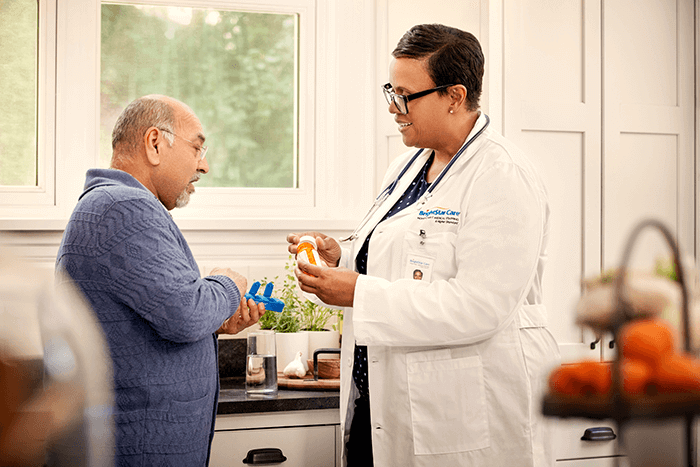 BrightStar Care recently conducted third-party market research that showed family caregivers seek a higher standard of care for their loved ones, but have difficulty finding it.
Through the research, BrightStar Care discovered that as families seek quality in home health care for their aging loved ones, the most important factors they consider include having a compassionate caregiver they can trust, somebody who understands the unique needs of their loved one, and having qualified, skilled medical professionals overseeing the care.
However, the lack of clinical quality standards within the private pay in-home health care sector, combined with the public's lack of knowledge of the industry, can make it challenging for families confronted with the need for care or professionals looking to select a trustworthy service partner. With the wide range of home care providers with varying levels of standards, services, staff, oversight and clinical backgrounds, the process of choosing one can be confusing and overwhelming.
BrightStar Care wants to help consumers ask the right questions when searching for the right in-home care company for a loved one. With the ultimate goal of spreading the message that family caregivers should always look for a healthcare agency that is holds itself to the highest industry standards possible, the company recently changed their tagline to "A Higher Standard." The Joint Commission recognized the company and its franchises' ongoing commitment to promote high quality health care services by awarding it the Enterprise Champion for Quality Award. The prestigious distinction is awarded to select franchise organizations with a proven commitment to the highest level of quality and safety, and further sets BrightStar Care apart as a quality-focused care provider.
"When my husband and I started BrightStar Care in 2002, it was because we personally experienced the overwhelming responsibility of caring for a family member and discovered the disparate quality of care in the marketplace," said Shelly Sun, CEO of BrightStar Care. "Compelled by our own personal struggle, we founded BrightStar Care, vowing to raise the bar for quality standards in the industry. Today, we are proud to be stepping out with a strong statement and tagline that emphasizes the importance of quality standards. In the process, we hope to educate families that there is `A Higher Standard' available that everyone has earned the right to have."
In addition, BrightStar Care is also educating consumers on qualities they should look for to identify a qualified care option:
Availability — Operates on a 24 hours a day, 7 days a week basis as many home care providers only operate during "regular business hours."
Registered Nurse oversight — Provides a comprehensive health and wellness evaluation conducted by a Registered Nurse with the expertise to craft a personalized plan of care around a loved one's unique interests, personal, and healthcare needs.
Trusted — Employs and oversees experienced, screened, compassionate, and trained nurses and caregivers.
Core Values — Stands by its core values and ensures that the client will get the care they need and deserve.
Accreditation — Committed to care standards that are validated through a major third-party healthcare standards accrediting body, like The Joint Commission.
Sharon Roth Maguire, MS, RN, GNP-BC, Chief Clinical Quality Officer for BrightStar Care, noted that Clinical Quality should be closely examined by families when choosing an in-home care provider.
"Our Clinical Quality standards give families a tremendous peace of mind that their loved ones are receiving the best of care from qualified professionals," Roth Maguire said. "When we talk about 'A Higher Standard,' we deliver on that message with brand standards such as RN supervisory visits and reassessments and person-centered plans of care that are designed following thorough health and wellness evaluations."