Meet the 2014 BrightStar Care Rookie of the Year
Every year at its National Franchisee Conference, BrightStar Care recognizes franchisee teams for their outstanding clinical, operations, or sales accomplishments. Over the next few days, we'll introduce you to some of this year's award winners, hear what the awards mean to them, and share a little bit of background on what they did before joining BrightStar Care.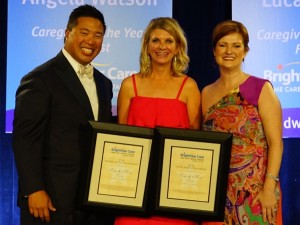 For this installment, we feature the 2014 Rookie of the Year, Becky Torrez. Becky earned BrightStar Care Rookie of the Year for 2014 based on her successful use of the BrightStar Care system to produce outstanding revenue as well as her potential and performance that have set her up to ensure future growth at her franchise.
"It may sound cliché, but hard work and determination goes a long way in this world," Torrez said. "I really embraced the BrightStar Care model and built upon everything they had to offer me."
Beginning her career as a school teacher and subsequent home-maker, Torrez had no medical experience prior to considering BrightStar Care. When she was making her final decision regarding what franchise to pursue, she observed that while other businesses were very eager to have her on board as a partner, BrightStar Care was the only company that made a concerted effort to find out more about her motives.
"BrightStar Care wants to find people that are genuinely devoted to serving and aiding their elderly communities as well as committed to upholding its core values," Torrez said.
Once Torrez became involved, she reverted back to her teaching background and turned the experience of opening her new business into an opportunity to educate those on her team.
"I didn't want us to fail," Torrez added. "This award certainly validates those stress filled days and sleepless nights. The knowledge that we are the beacon of light in some of the darkest moments of people's lives is what kept me going even in the midst of all the uncertainty."
Related: