BrightStar Care Appoints International Franchise Development Expert to Executive Staff
BrightStar Care announces the addition of Anthony Padulo as the Executive Vice President, International Franchise Development. The newly created role will put Padulo in charge of strategic expansion and oversight of international growth and operations.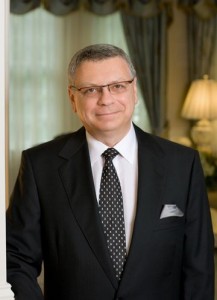 Padulo has an extensive background in franchise development, including successful careers at Dunkin' Donuts and Baskin Robbins where he was responsible for the launching of over 30 new countries. Padulo's 30 years' experience in domestic and international expansion also includes positions at BP Oil, Goddard Systems, and Re/Max.
He joins BrightStar Care in a critical time for growth as the company heads toward building a worldwide brand presence. Padulo's experience in driving new market entry strategies, building and leading sales organizations, and developing quality real estate sites will assist in BrightStar Care growing into new and emerging international markets like Canada, the United Kingdom, New Zealand, Australia, Japan, and the rest of Europe.
"BrightStar Care is poised for remarkable growth over the coming years, and Tony's proven ability to expand brands into new markets coupled with his extensive experience in the franchise industry is exactly what we need to become the household brand in the healthcare industry," said Shelly Sun, CEO and co-founder of BrightStar Care. "Over the last few years, our brand has evolved both our business model and service offerings to meet the changing needs of today's society, and we are eager to work with Tony to expand the company internationally."
Padulo's appointment comes on the heels of BrightStar Care third-party market research that showed family caregivers seek a higher standard of care for their loved ones, but have difficulty finding it. With the ultimate goal of spreading the message that family caregivers always should look for a healthcare agency that is held to the highest standards possible, the company recently changed its tagline to "A Higher Standard of Care." Recent recognition from The Joint Commission including the prestigious Enterprise Champion for Quality Award, further sets BrightStar Care apart as a quality-focused care provider and the company expects the brand to translate well to international markets.
"With the BrightStar Care potential and strong foundation for growth, I plan to help build a viable and growing international business," said Padulo. "My primary objective is to expand the world-wide brand presence of BrightStar Care, and I very much look forward to working with the world-class team here to make that happen."
Master Franchises or Area Developers for BrightStar Care international development will typically be awarded by entire country. Qualified candidates must meet initial requirements, including:
The recommended minimum of working capital of $700,000 US and net worth in excess of $1 million US. Working capital and net worth for international franchise candidates depend on size and scope of the market.
Existing master franchisee of other businesses or a direct franchisee with numerous businesses.
Resources to create and execute aggressive expansion plan to build brand awareness for all services and award unit franchises within the master franchise country or province.
Healthcare experience not required