BrightStar Care Franchise Owners in Honolulu Recognized By Pacific Business News
BrightStar Care franchisees in Honolulu, Steven & Alison Lee, have been recognized by the Pacific Business News as the No. 33 fastest-growing business on the Hawaiian Islands. The PBN Small Business Expo, which was held on August 14, was home to the award ceremony which recognized local businesses for their percentage growth between 2011 and 2013.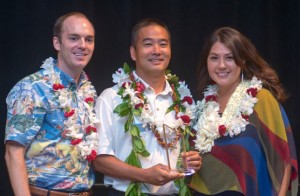 The Lee's opened their business in 2010 with the goal of "doing well by doing good." The husband and wife team firmly believe that the keys to building a successful business are to hire the best people with the best attitude, train them well, have high expectations, make work fun and treat everyone with respect, compassion, empathy and kindness. This work ethic and attitude has helped propel their business growth over the last two years.
"Everything we do starts with our 'Hokualohi Promise' – a promise to provide the kind of care we would want for our own loved ones," said Steven Lee, co-owner of BrightStar Care of Honolulu. "To be compassionate, empathetic, patient and kind while still providing reliable, top-notch care is something that we pride ourselves on."
When asked for advice for other small business owners looking to increase profits and grow their business, the Lees advised other business owners to do the right thing for the right reasons and to know your company's core values and let them guide your decisions. The Lee's believe that by sharing your company's values and vision with your team, hiring great people and learning from other's successes, you will be on your way to a profitable business.
"By doing right things for the right reasons, we have been fortunate to build relationships that have helped us grow," said Alison Lee. "We go above and beyond for our clients, and hire and train employees who are dedicated to helping families by easing burdens, bringing joy and providing the best-quality care."
So far, this philosophy and commitment to excellence has served BrightStar of Honolulu well. In addition to this recent achievement, BrightStar Care of Honolulu broke the National BrightStar Franchise record for first year revenue. Other National BrightStar awards earned by Steven and Alison Lee and the BrightStar Care of Honolulu office include: 2011 BrightStart Award, 2011 Rookie of the Year Award, Pace Setter Award, Outside Sales Excellence Award, 2012 Rising Star Award.
Serving over 500 clients and families throughout Oahu and employing over 100 people, Steven and Alison credit their success simply to being truly passionate about helping people. The ability to make a difference in their community, coupled with the fact that they are providing valuable jobs to local residents is truly gratifying for the couple.