Five Important Reasons You Should Consider a BrightStar Care® Franchise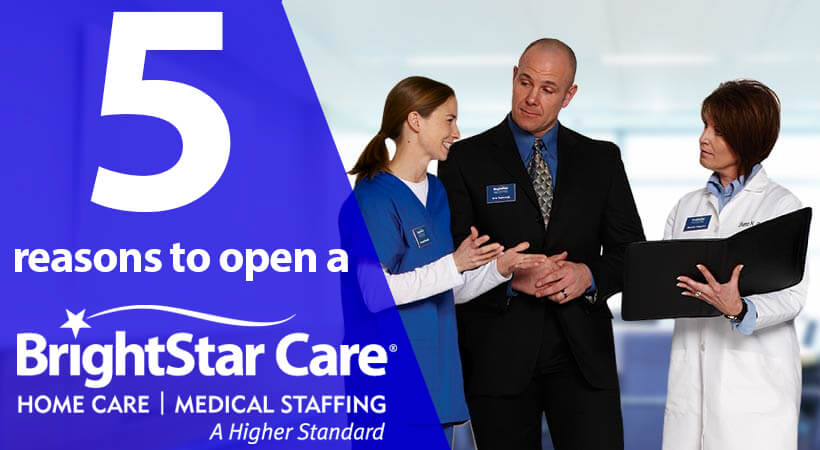 Here's why BrightStar Care® is the best home healthcare franchise
BrightStar Care® is the leader in the fast-growing home care industry, with over 305 locations nationwide, the highest disclosed average revenues and leading healthcare accreditation. The company was founded by Shelly as a family business in 2002 in order to provide the full continuum of home healthcare for families and individuals in need. She dedicated herself to creating a business that families could rely on for quality care, whether their family member needed companion care to provide help around their home, personal care to help them manage mobility challenges or skilled care to help manage medical conditions. We are proud of the company we've built and feel it's the best home healthcare franchise around.
But why should you consider a BrightStar Care franchise? Glad you asked!
1. Higher standard of care
BrightStar Care® franchisees earn Joint Commission Accreditation, which ensures that the highest level of healthcare standards are met. The care we provide empowers our clients to live well at every stage of life and in every setting. It gives them, their families and their loved ones the support they need to get the most out of life. At BrightStar Care®, our mission is to go above and beyond to truly deliver A Higher Standard of care and nothing less.
2. Multiple revenue streams
In addition to delivering care to patients one-on-one in their homes, we also provide care in other settings. Other healthcare businesses frequently reach out to BrightStar Care® for help with staffing needs. We provide personnel to hospitals, nursing homes, doctors' offices, labs and anywhere healthcare staff is needed. These relationships not only bring in extra revenue for franchisees — they also provide extra income opportunities for caregivers, which helps make BrightStar Care® the employer of choice for caregivers. We offer skilled care, companion care, personal care, child care and staffing services.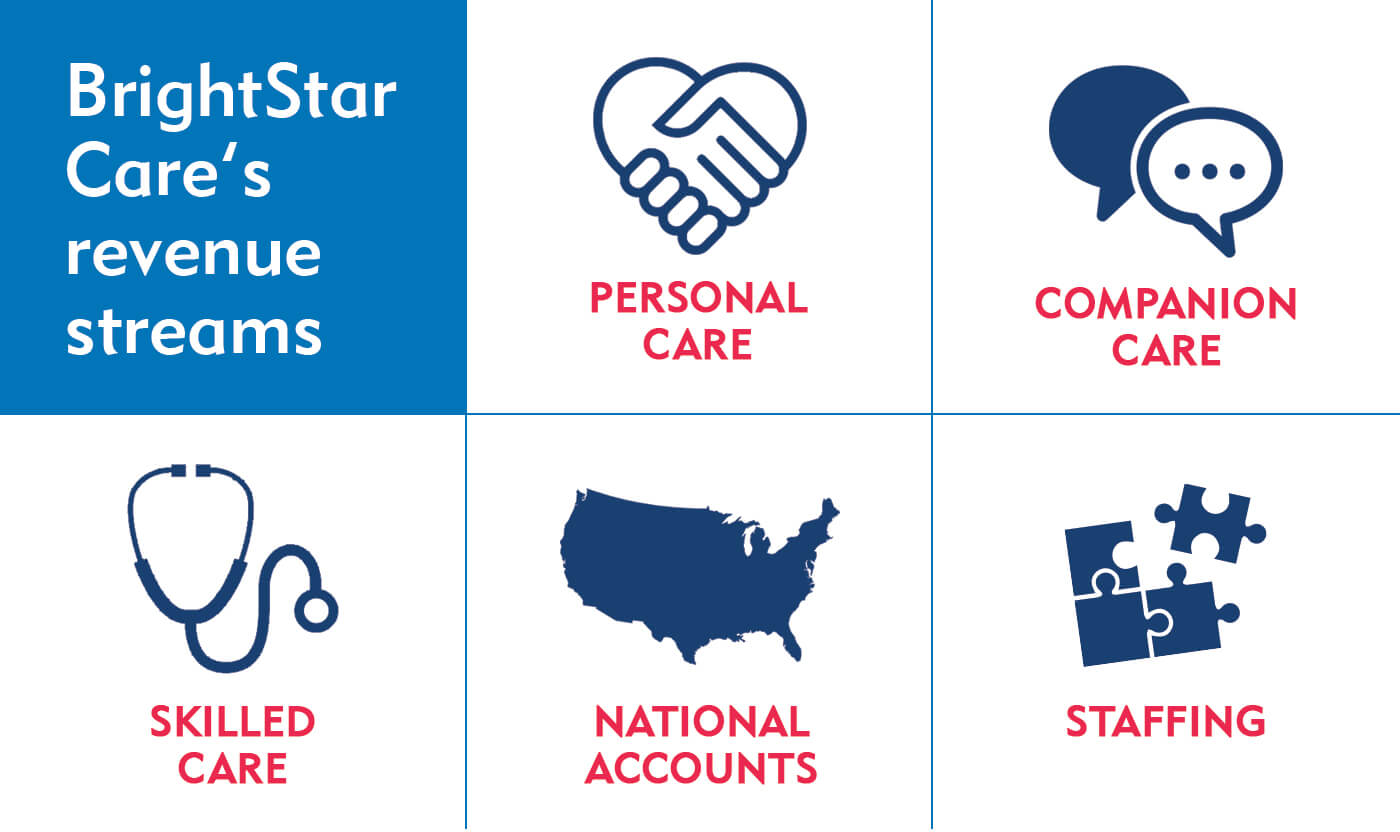 3. Full continuum of care
BrightStar Care® is the only home healthcare franchise to offer its clients the full continuum of care, everything from simple companion care to skilled care that requires a qualified, licensed professional. Patient care at every BrightStar Care® location is case-managed and overseen by a Registered Nurse. This not only helps ensure the highest level of care for our clients, but also is a benefit to franchise owners who may not have had previous medical industry experience. They can concentrate on the business side their franchise, while the patient care is administered by medical professionals.
4. National accounts
BrightStar Care® franchisees benefit from patients referred by our network of national account partners. Many healthcare providers are looking for skilled providers to serve patients in their homes, and BrightStar Care® is an ideal partner thanks to our nationwide footprint and our franchisees' accreditations. National account services range from insurance assessments and IV infusion therapy to home health, in addition to delivering flu clinic services to corporate, commercial and retail clients.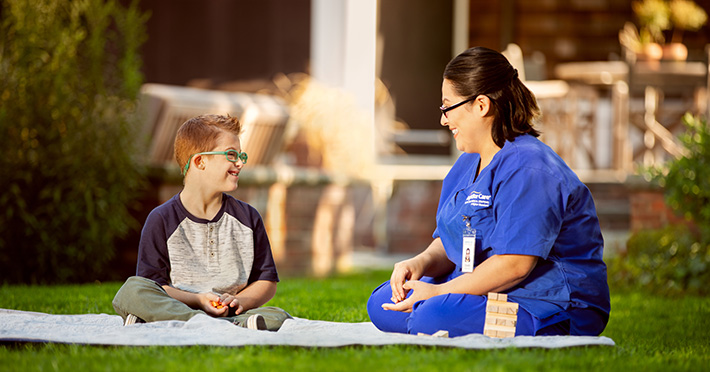 5. Technology advantage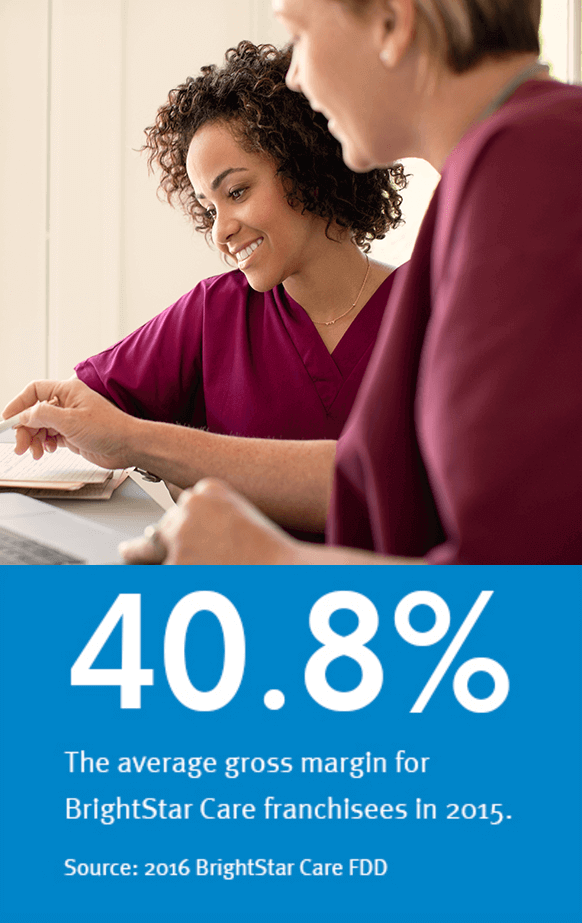 One of the things that sets BrightStar Care® apart from our home care competition is the investment that we have always made in technology. "We have technology solutions unlike any other brand," says Jim Kearns, the Chief Technology Officer for BrightStar Care®. "Our CEO, Shelly Sun, has been investing in technology since the very beginning, to the tune of millions of dollars a year. That investment ensures the technology will continue to drive improvement and efficiencies for our owners as the home care market evolves." Our technology allows owners to automate many tasks, such as scheduling, maintain a centralized data hub for client information and deliver insights into the business and its profitability. Our platform is also designed to parse through the massive amounts of data generated by franchisee operations and spot key performance indicators, trends and opportunities.
Want to join BrightStar® Care?
For information about joining the best home healthcare franchise, fill out the form on this page to download our free executive report. BrightStar Care® gets hundreds of inquiries a week. To skip to the front of the line, click here to fill out our non-binding franchise application.