How Does Expertise in Alzheimer's Care Differentiate BrightStar Care® Services?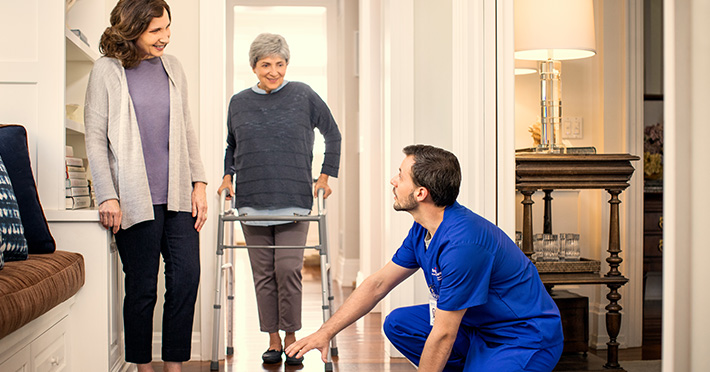 Despite home care competition,  BrightStar Care® stands out because of skilled care services
The numbers are sobering: The Alzheimer's Foundation of America estimates that as many as 5.1 million Americans may have Alzheimer's disease. Given that the risk of developing the disease increases with age, the incidence of Alzheimer's is becoming more prevalent as the American population grows older.
In-home care for Alzheimer's patients is certainly a choice, especially since other assisted living facilities might be an expensive proposition. But Alzheimer's patients need a whole range of care options: from companion and personal care services to skilled care and this is one of the many ways BrightStar Care® differentiates itself from the home care competition. Unlike the rest of the pack, BrightStar Care® franchisees check all the boxes: they provide companion and personal care services that Alzheimer's patients need along with supervised skilled care. This key differentiator makes BrightStar Care® a better value proposition for franchisees.
BrightStar Care® meets complex needs of Alzheimer's patients
According to the U.S. Census Bureau, the number of people aged 65 and older will more than double between 2010 and 20150 to 88.5 million or 20 percent of the population. Of special note is the forecast that the segment of the population 85 and older will rise three-fold to 19 million.
Although not everyone develops Alzheimer's with age, the risk does increase as one grows older. Especially relevant to BrightStar Care® franchisees: The Alzheimer's Foundation of America estimates that at least one to four family members act as caregivers for every Alzheimer's patient. This means that busy family members might look to a home care franchise such as BrightStar Care® to help with the complex care that their loved ones might need.
Home care typically falls into one of three segments: companion care, which helps with shopping and appointments; personal care such as help with bathing and grooming; and complex care, which might include blood draws, wound care, therapy and nursing services. Unlike the home care competition, BrightStar Care® provides the whole continuum of care. This means that family members can rest assured that they don't have to arrange for a piecemeal approach to their loved one's needs, they get all they need from one place: BrightStar Care® and franchisees therefore have a chance of maximizing revenue.
BrightStar Care® quality of services attracts families in need
Many BrightStar Care® franchisees are accredited by the Joint Commission, a high set of standards met by recognized industry leaders like the Mayo Clinic. Unlike the competition, BrightStar Care® assigns a registered nurse to every case who monitors progress and keeps track of evolving Alzheimer's needs.  
BrightStar Care® providers are also carefully screened and licensed so only the best are part of every BrightStar Care® team. Such a thorough approach to Alzheimer's patients attracts family members who are looking for long-term, reliable care without having to switch providers as needs change.
BrightStar Care® franchisees stand to gain from a comprehensive approach to home care for all clients including those with Alzheimer's: providing a continuum of services including skilled care and delivering these services while maintaining high internal standards, facilitates client retention and greater revenue potential.
Learn more
For more information about how BrightStar Care® stands out amidst the  home health care competition and for becoming part of what we think is the best home health care franchise, fill out a form to download our free executive report.