These BrightStar Care Franchisees Help Each Other and their Community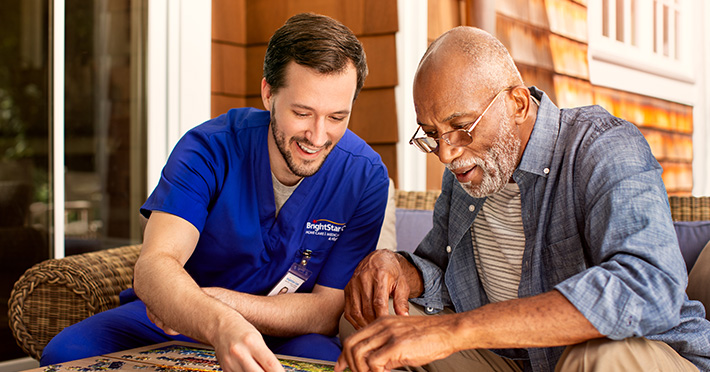 Amy and Jesus Adaniel were both involved in the healthcare industry before launching their BrightStar Care franchise. Amy is a Respiratory Therapist, and Jesus is a Registered Nurse and acts as the Director of Nursing (DON) at the location. Although their healthcare backgrounds are helpful, it's not what truly drew them to BrightStar Care.
The Adaniels' experienced home healthcare in many parts of their lives, with family members and when Amy was pregnant. She experienced extreme nausea and severe hyperemesis, and utilized home health care throughout her pregnancy.
Their professional backgrounds coupled with their personal experiences with home health care led them to open the BrightStar Care locations.
A Family Affair
Jesus worked as the DON for his sister-in-law which inspired the pair to research their own location. Now, as a husband-wife-owner duo, the dynamic can be difficult to balance. However, the Adaniels find it helpful to ask each other for advice.
"It's certainly stressful, but it really helps to bounce ideas off of each other to solve problems," said Amy Adaniel.
The Adaniels have gotten more of their family involved, including their daughter, who has joined Amy's Alzheimer's advocacy efforts in their community.
Giving Back
The Adaniels see the effect of Alzheimer's on their clients every day. More than five million Americans are living with Alzheimer's right now, and that number could rise to 16 million by 2050. Amy Adaniel has seen the effects of this disease and works with Alzheimer's Association to raise money and awareness for the debilitating disease.
"Anything I could do to help, I want to do it. I wish we could lighten the burden for caregivers, so I do my best to show support in any way that I can," said Amy.
This year, she was the Chair of the Walk to End Alzheimer's in West Palm Beach, which set the highest fundraising record so far. Giving back to the Florida community as well as the Alzheimer's community, which so many of the Adaniels' clients have ties to, is especially rewarding for the pair.
BrightStar Care Community
The network of owners is another one of the Adaniels' favorite aspects of business ownership within the BrightStar Care franchise system.  Amy's true passion is helping people and working with the caregivers.
"I know I'm able to place these caregivers in rewarding positions that allow them to help people. I get to help people every day, and I wouldn't trade it for a minute," said Amy.
The Adaniels have embraced their business and their community and have been able to give back in many different ways in the almost 10 years of operating their BrightStar Care agency.
If you're interested in joining a franchise that gives back to the community download BrightStar Care's free franchise overview.