Why First Responders Are a Natural Fit for Home Healthcare Franchises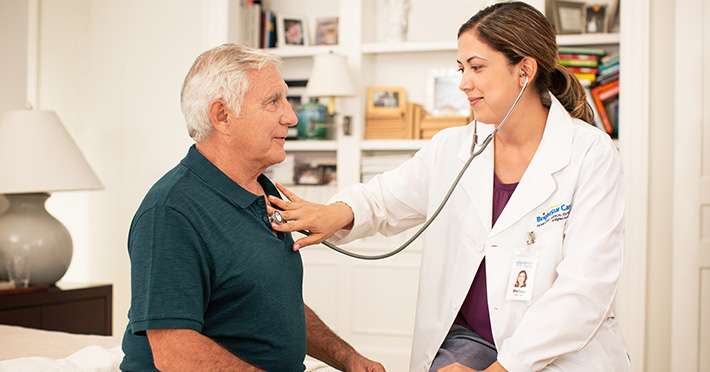 First responders – the police officers, firefighters, EMTs and paramedics who arrive first at the scene of an emergency – are an indispensable part of every community. They are dedicated to the safety and well-being of the towns where they work. They also possess many of the qualities BrightStar Care looks for in its franchisees.
Business ownership in home healthcare is a strategic transition for professionals from a variety of fields who want to take their careers to the next level. Home healthcare franchises like BrightStar Care offer the perfect opportunity to build a fulfilling career while helping others. Here are a few reasons why first responders – and others with leadership skills and a desire to help – make excellent BrightStar Care owners:
Experience in the Medical Field
Medical experience is not a requirement to own a BrightStar franchise, but it's an advantage. Franchisees with an understanding of healthcare strategies and best practices will have a smoother transition into the home healthcare field.
Furthermore, a background in patient care is a huge asset when communicating with patients and their families. First responders are trained in crisis communication, conflict resolution and bedside manner. With this training and experience, emergency personnel can effectively advocate for clients and their families. This helps BrightStar's clients feel at ease and know they're in good hands.
Community Mindset
BrightStar franchisees recognize the importance of building strong communities, and this mindset helps them excel in home healthcare. Although our franchisees don't put their lives on the line each day like emergency personnel, their work still makes a difference. They help their communities by providing care to patients, but also by providing support to familial caregivers.
Taking care of a family member takes a toll physically, mentally and financially. For example, 35 percent of people who provide care for someone with Alzheimer's or dementia report that their health has worsened because of their caregiving responsibilities. These responsibilities pose even more of a challenge for people who also are raising children. BrightStar offers flexibility and freedom to people juggling caretaking, career and parenting responsibilities. In-home care eases pressure on busy families, which, in turn, changes communities for the better.
Leadership Skills
Successful BrightStar franchisees are team players, and emergency personnel bring a strong understanding of teamwork and its importance. First responders don't work alone – they operate on teams, and everyone has designated responsibilities. When lives are at stake, there's no room for error, and the team must function seamlessly. This demanding environment builds leadership skills, as well as the ability to follow protocol and make decisions under pressure. BrightStar owners use these skills as they manage teams of skilled caregivers and office staff in order to provide the best possible service to clients.
First responders also must demonstrate impeccable personal responsibility on the job, which transfers easily to careers in home healthcare management. Managing a client's health is a huge responsibility, and BrightStar wants leaders who are up to the task.
Emergency personnel make excellent candidates for careers in the home healthcare field. Their skill sets provide them advantages in the industry, and the value they place on helping the community helps them excel at their work. However, you don't have to be a first responder to demonstrate empathy, leadership and responsibility. For first responders or other professionals looking to make a career change – but still wanting to make an impact – the home healthcare field offers the perfect opportunity.
To learn more about BrightStar Care franchise opportunities, download our free Franchise Overview.