Senior Care Franchises Provide More than a Service – It's a Complete Support System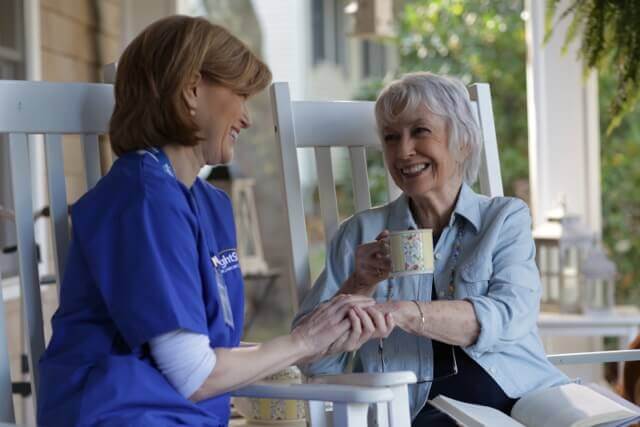 Providing a full continuum of care means BrightStar Care franchisees benefit from several revenue streams [1] as opposed to the one or two revenue streams offered by other home care providers. While BrightStar Care franchisees experience the financial rewards, their clients and their families benefit from the simplicity and comfort afforded by a full continuum of care.
By providing clients and families with peace of mind, franchisees are happy they fulfilled their clients' needs. They make a tough situation easier for families who want to rely on trusted help.
BrightStar Care Fills a Void
When most people think of home care, they picture someone caring for an elderly person. But that's only partially correct. In home health care provided by BrightStar Care franchisees include:
Companion care
Personal care
Skilled medical care
Thanks to the large and aging baby boomer generation that wants to age at home, there's an increasing demand for all three areas of care. Baby boomers make up the largest living adult generation with 72 million to 74 million people in the United States.[2] Demand will remain strong for years to come as lifespans increase and the following generation, Generation X, is predicted to become the largest living adult generation in 2028.
Our competitors typically provide only two areas of care – companion and personal care. As the population ages, more skilled medical care will be needed. The BrightStar Care franchise model makes the most of this opportunity that other home care concepts have missed out on. While doing so, BrightStar Care eliminates the need families encounter when the aging parent, grandparent or spouse enters the stage of life where they need skilled medical care.
Providing Ease and Continued Trust
While offering a full continuum of care is great for franchisees, it also provides clients and their families simplicity and comfort. Here's how:
As baby boomers age, more younger family members will feel the pressure to care for them. Many grown children will attempt to provide the care themselves – but will not be able to handle the anxiety and stress that goes along with the responsibility. The responsibility will become burdensome especially as aging family members require more skilled medical care. It's then that family members providing the care experience caregiver stress,[3] which is brought on by the emotional and physical strain of caring for another person. If not managed, the tremendous amount of stress can lead to health problems, such as depression, weakened immune system, risk of chronic diseases and more.
At some point, many family members providing care to their loved ones will join others who have turned to outside home health care businesses to assist with the care of their aging loved ones.
But selecting the right home health caregiver can be stressful, too. Family members may be reluctant to put their trust in someone else, especially the more vulnerable the loved one is. Even if a family has used a home health care business to care for their parent, grandparent or spouse, chances are that provider only delivered companion and/or personal care. If skilled medical care is needed, they will search for another provider.
However, because BrightStar Care franchises provide all three areas of care – companion, personal and skilled medical – transition for our clients and their families is seamless. We provide continued care – from companion through skilled medical – so families can rest easy with the single home health care provider they trust and can continue to rely on.
Are you interested in meeting the growing demand for home health care services by opening a home health care business of your own? Learn about franchise opportunities with BrightStar Care by downloading our free franchise review today.
 
[1]
https://www.brightstarfranchising.com/home-health-care/why-us/
[2]
https://www.pewresearch.org/fact-tank/2018/03/01/millennials-overtake-baby-boomers/
[3] 
https://www.womenshealth.gov/a-z-topics/caregiver-stress