Meet the 2014 BrightStar Care Customer Satisfaction Award Winners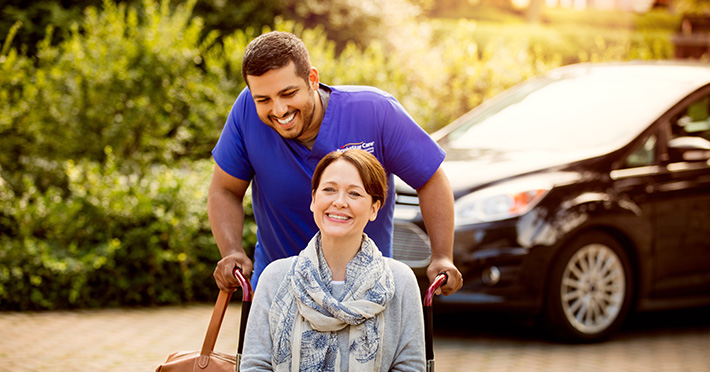 Every year at its National Franchisee Conference, BrightStar Care recognizes franchisee teams for their outstanding clinical, operations, or sales accomplishments. In this series, we'll introduce you to some of this year's award winners, hear what the awards mean to them, and share a little bit of background on what they did before joining BrightStar Care.
For this installment, we feature the winners of the Customer Satisfaction Award. These winners achieved the highest Net Promoter Scores in the BrightStar Care franchise system. BrightStar Care is the only national home care franchise to measure client satisfaction by using Press Ganey — the recognized leader in health-care performance improvement.
Jesse and Monica Del Angel — BrightStar Care of NW Chicago/Norridge/Franklin Park (Illinois)
"We're honored to be recognized by our patients and their families with such positive feedback. This award is a great reminder that our personal efforts and dedication have made a difference in so many lives," said Monica Del Angel, co-owner of BrightStar Care of NW Chicago, Norridge, Franklin Park. "We work hard to match clients with compassionate and caring caregivers, nurses, and nursing aides. We couldn't be prouder of our team as a whole."
2014 marks the fifth year since Jesse and Monica Del Angel opened their doors in Elmwood Park. Previously Jesse was an IT director for a global financial firm, while Monica managed communications and outreach in the municipal and not-for-profit sectors.  Both had an interest in entering the senior care field after learning firsthand about the limited options available for adults and seniors when disabilities, illness, and ageing make it impossible to maintain an independent lifestyle at home.  "BrightStar Care was extremely fitting from both a business and personal perspective. We've made our relationships with staff and patients a primary focus, secondary only to providing exemplary patient care, so this award is one of our proudest accomplishments," said Jesse Del Angel.
Robin and Ellen Hazel — BrightStar Care of South Pinellas; BrightStar Care of North Pinellas (Florida)
"We are truly honored to have received this award because we truly care about the people whom we are looking after," said Robin Hazel, owner of BrightStar Care of Clearwater, Florida. "Our entire team is dedicated to providing the best care possible to our clients and their families, and this award is a reflection of all our hard work."
The Hazel's journey to BrightStar Care began after Robin completed a successful career in corporate America. It was then that he and Ellen decided to chase their entrepreneurial dreams and started researching franchise opportunities. Looking for a more "human" connection, they made the choice to invest in the in-home care franchise and haven't looked back since. Currently, the Hazels are caring for roughly 120 families and employ more than 150 people. Their business has exploded in the couple was recently recognized for breaking the 'year two revenue record' after they saw a 214 percent increase in sales in one year.
Related: Franchisees Robin and Ellen Hazel featured on Entrepreneur.com and Tampa-based franchisees break the BrightStar Care revenue record for Year Two
Amy and Jesus Adaniel — BrightStar Care Delray Beach (Florida)
"Jesus and I did not receive this award; our entire staff received this award. Without our team, this outstanding recognition would not have been possible," said Amy Adaniel. "We realize it's hard for our clients to accept help if they haven't been helped before. Therefore, we train our staff to understand they are guests in the client's home and that they need to be cautious and aware of the sometimes unwanted adjustment families need to make by accommodating time and space for anyone outside of their immediate circle. Everyone wants to believe they can take care of themselves forever, even if that sometimes isn't the case."
Amy and Jesus joined BrightStar Care as a natural next step in their lives.  Both previously worked in hospitals and have always wanted to expand their careers as entrepreneurs, giving them autonomy and a chance to leave behind a legacy for their children. BrightStar Care deemed to be the perfect fit, and with seven years in the business, the journey has been a rewarding one that reassures them each day of the positive change they've made in their lives.
Related: