Franchisee Becky Torrez Featured in Huffington Post Article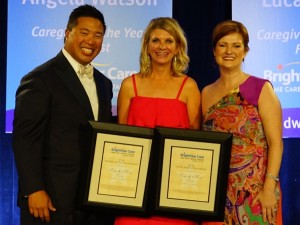 BrightStar Care 2014 Rookie of the Year Franchisee Becky Torrez (SW Las Vegas and W. Central Las Vegas) was recently featured in an article on HuffingtonPost.com, "From Legos to Business Plans: One of Three Inspiring Stories of How Three Women Satisfy their Career Goals while Remaining Devoted Parents." The article highlights Becky's journey from stay-at-home-mom to becoming a BrightStar Care franchisee and how she manages both business ownership and motherhood. Click the link above to read the entire story. Here's an excerpt:
With her husband working all the time, Torrez felt like a "single mom". They just weren't happy with the lifestyle and decided to do some "soul-searching". That was when a family friend suggested they open a business. After a little research, Torrez found BrightStar and knew she had found her business.
Beginning her career as a schoolteacher and subsequent home-maker, Torrez had no medical experience prior to considering BrightStar Care. When she was making her final decision regarding what franchise to pursue, she observed that while other businesses were very eager to have her on board as a partner, BrightStar Care made a concerted effort to find out more about her motives and goals. Once Torrez became involved, she reverted back to her teaching background and turned the experience of opening her new business into an opportunity to educate those on her team.