BrightStar Care Franchisee Q&A: Uday Roy of Pittsburgh, PA
Former technology consultant and MBA puts his business skills to use in building six-territory home health care franchise
While working as a technology consultant, Uday Roy decided he had had enough of the constant travel in his job and wanted to find an opportunity where he could spend more time with his wife and young children in Pittsburgh, Pennsylvania. He wanted something where he and his wife could put their talents together and set down their roots. They found BrightStar Care and purchased their own home healthcare franchise, which has since grown to encompass nearly all of Pittsburgh.
How long have you been a BrightStar Care franchisee?
We completed six years with BrightStar Care as of August. I have seven territories, which covers all of the greater Pittsburgh market besides one territory that has a different owner, and some extend into other parts of Pennsylvania. Before BrightStar Care, I was an MBA and a technology consultant for world-leading companies.
What made you decide to become a BrightStar Care franchisee?
My wife is a nurse and was working for a major health care provider in the Pittsburgh market. I was traveling around the world, but we had little children and needed to find a better work-life balance for our family. We decided to put our heads together and do something different. We looked into other business opportunities like opening up a preschool or a restaurant, but this seemed to be a perfect opportunity for us.
What was it that stood out about BrightStar Care that made you decide to go with them?
They had something to offer for people with our skill sets. As a nurse, my wife could look over the client and clinical care issues while I focused on the business side of things. That combination of skill sets helps when starting a venture like this. We believed BrightStar Care was the best fit for our background and it was within our budget so we decided to go for it.
What have you enjoyed most about owning a BrightStar Care home health care franchise?
I enjoy taking care of our patients and employing our staff and caregivers. I think the basic motivation behind any business is the opportunity to create jobs and at the same time take care of clients and make them happy. Physically and mentally we take care of hundreds of clients, which is very satisfying for both my wife and me.
From a client perspective, what do you think is most appealing about BrightStar Care compared to other home health franchises?
We provide the most consistency, quality, dependability and reliability for everything that goes with, and is expected from, a good home healthcare agency. As a franchise system, we hold ourselves to a much higher standard. We are Joint Commission accredited, which means our clinical quality is much higher than a non-accredited agency. We have a registered nurse involved in every case. The patients get evaluations and oversight that benefit from the clinical knowledge of the RN assigned to them. We go above and beyond in checking our employee's backgrounds and holding them accountable for meeting our high standards of care. The services from BrightStar Care are of a higher quality than all of the other agencies out there.
In what ways do you work with headquarters and what kind of support do they offer you?
They help us with our technology systems and vendor assistance. We also get some guidance in marketing. Recently, we have ramped up our medical staffing and have been working very closely with corporate to put programs in place and develop a joint marketing strategy to operate and manage that segment of the business.
This type of business makes a big impact on clients' lives. Are there any particular clients or stories that stand out?
We have plenty of stories. We provide care ranging from two hours a week all the way up to 24/7 skilled nursing. We have clients we started with years ago who we're still working with, which is a huge sign of confidence in our agency. We've heard how we were able to help people in terrible situations and that is extremely satisfying for us. We take clinical and quality feedback from clients and corporate very seriously, and most of the time we hear nothing but great things about how we're doing. We survey 10% of our clients and employees every month. When we do receive complaints from clients, we take those very seriously and are proactive in fixing any issues.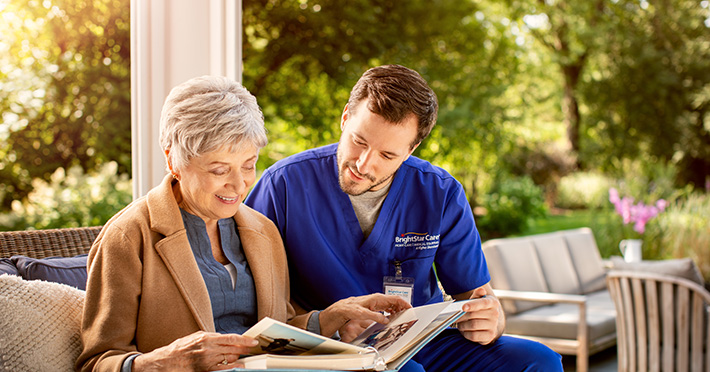 How do you feel about the direction of the BrightStar Care brand going out into the future?
BrightStar Care is like a one-stop shop healthcare agency and a high standard of clinical oversight connects all the elements of what we offer. Clients get a lot more out of our services than they get from other agencies. The aging population both here in Pennsylvania and around the country creates a real need for our services, and thanks to the strategic and innovative thinking of BrightStar Care, I think the future's very bright.
How did you work through the learning curve of learning a new industry?
Of course, like anyone else, we made mistakes and learned from them. I think I have the skill set to learn and continually improve myself. Anyone in this business needs to be willing to work very hard, especially the first few years. It is never going to get easier because you are always going to face new challenges. At BrightStar Care, we are never bored. The day flies by, then the week flies by and even the years fly by here. We are engaged and involved in our work and we have that determination to learn from mistakes and learn and work with the franchisor and other franchisees.
What is a typical day or week look like for you?
It varies. We have most of our meetings on Mondays. We have 600-plus employees and we take care of approximately 500 clients, so over the weekend a lot of issues pile up. We usually have some fire fighting and some decision making to do on Mondays. We take care of billing on Tuesdays, so those are still very hectic, and then the rest of the week gets a little bit easier unless there is an extreme situation going on. Fridays we kind of wind down and make sure we are all set for the weekend.
Do you feel that you have been able to meet the business goals you've set for yourself?
I think I have met BrightStar Care's expectations many times over. As far as my expectations are concerned, I think I can do more.
How do your wife and staff help you manage the business?
It takes a village to manage a good business, especially a business of this size. I think we are crossing the boundary from a small business to a medium-size business. Many owners think they can do it all by themselves, but then they don't ever cross the threshold of making their business into something bigger.
We have surrounded ourselves with competent people but it did not happen overnight. It took a lot of trial and error. Once you find and surround yourself with competent people, from that point onward you have a group of generals defending your business and pushing it forward.
Want to become a BrightStar Care franchisee?
For information about becoming a franchisee, fill out a form to download our free executive report. BrightStar Care gets hundreds of inquiries a week. To skip to the front of the line, click here to fill out our non-binding franchise application.