Senior Home Care is at the Heart of What These BrightStar Care Franchisees Do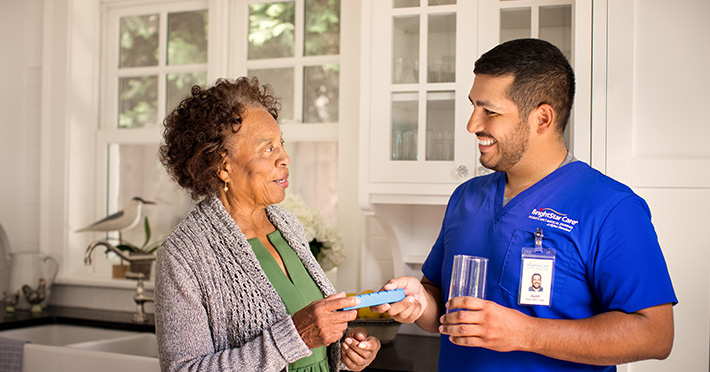 After witnessing the compassionate care her father received at the end of his life, Maureen Silven and her husband Brian were compelled to make a career change.
Although both come from inherently benevolent professions, they wanted to have a greater and more direct impact on peoples' lives by becoming BrightStar Care franchisees in Norwood, Mass. Maureen has 25 years of experience in education and health and human services. Brian brings more than 30 years of experience in healthcare.
"What I realized going through those final months with him was how critical it was to have a support system," Maureen said. "Being from a large family, I was fortunate to have that. But the experience made me realize that not everybody does have a support system. I thought, 'Wouldn't it be wonderful if everyone could have a team of caregivers and healthcare providers like my father had?'"
The Search for a Compassionate Concept
Finding a franchisor that matched their level of care for people was paramount for Maureen and Brian. When they discovered BrightStar Care, they were pleased to learn the company shared their same values, which was partly evident in the range of services the company provides for clients and their families, and the standards of care in place.
"As we qualified franchises," Brian said, "BrightStar Care became the leader."
"What was important to us was the people behind the franchise," Maureen added. "They really stood out for us. We wanted to know the people running the franchise were in it for the right reasons, similar reasons we were into it."
BrightStar Care franchisees provide a full continuum of care – companion, personal and skilled medical – which makes the transition from one kind of care to another simple, easy and less stressful for families and clients. Rather than going from provider to provider for each stage of care, clients are comfortable remaining with one provider who will take care of them at every stage.
BrightStar Care provides A Higher Standard of care. For a record six consecutive years, BrightStar Care has earned the Joint Commission's Enterprise Champion for Quality Award[i] – making us the only home care franchise system to do so. Our Joint Commission accreditation sets us apart from other home care franchises and ensures our franchise partners uphold our brand values and culture for providing the best care.
"The standards of care in place at BrightStar really stuck out for me and spoke volumes about the type of organization that BrightStar Care is," Brian said. "It's where we wanted to be. I appreciated that we would staff and meet the needs of the client at every stage of care that's needed. It meant they could stay with BrightStar and develop a relationship with our caregivers and we could move them through the process without ever having to leave the organization."
Quality Care has its Rewards
While the BrightStar Cares franchise model benefits clients and their families, it also rewards franchise owners. The full continuum of care model provides multiple revenue streams as opposed to the one or two revenue streams offered by other home care providers.
Are you interested in meeting the growing demand for home health care services by opening a home health care business of your own? Learn about franchise opportunities with BrightStar Care by downloading our free franchise review today.
[i] https://www.prnewswire.com/news-releases/brightstar-care-named-2017-enterprise-champion-for-quality-award-for-5th-year-300515961.html